European flair at a value. Buick reentered the wagon segment in 2018 with the Regal TourX, bringing a slightly higher-than-average ride height, standard all-wheel drive, and unpainted body cladding to bring in a dose of ruggedness.
The 2020 Buick Regal TourX delivers a delicate mixture of mainstream and luxury, as Buick as a brand has been wont to do. The automaker always looks to that delicate balance to scoop up buyers who can afford a more premium car but not quite a BMW or Mercedes.
The Regal TourX's design is a clear example of this. Its body boasts a distinctly European design with its smooth body lines and just enough creases to keep things interesting. At the same time, it avoids wild cues that will stand out as dated in the coming years.
That's not to say there's nothing outwardly sharp about the Regal TourX. Standing out is its unpainted lower body cladding that adds a touch of ruggedness and gives it a more off-road-friendly look to match the Subaru Outback.
This design comes at a relative value with a starting price of $30,295, which is over $10,000 less than the Volvo V60 and $2,640 more than the Subaru Outback.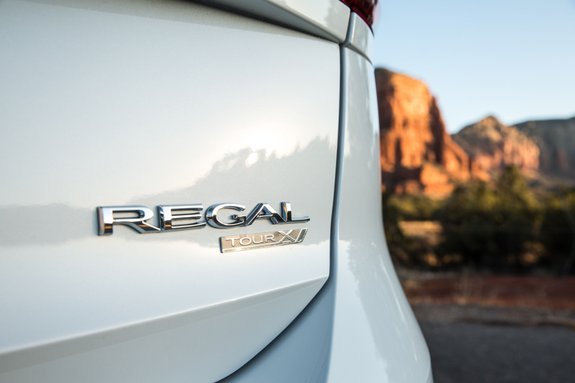 Roomy but unexciting cabin. Like any good wagon, the Regal TourX has plenty of room for people and cargo. Its rear seats feature 36.9 inches of legroom, giving it an extra 1.7 inches when compared to the V60. Buyers who need more roominess may prefer the Outback and its 39.5 inches of rear legroom.
Behind its rear seats, the Regal TourX can swallow up to 32.7 cubic feet of cargo, beating the V60 by a whopping 9.5 cubes and the Outback by 0.2. Lower the rear seat and the Buick's cargo hold balloons to 73.5 cubic feet. This beats the V60 by 22.6 cubes but loses to the Outback by 2.2.
While the Regal TourX's interior offers a great middle-ground in terms of roominess, its design falls a little flat for its price tag and status. To help save on cost, Buick opted for some cheaper-feeling materials and didn't focus as much on fit and finish as it should have. That said, these cost savings are redistributed in the Regal TourX's sound-deadening materials, which give it a more premium on-the-road feel.
This cabin does meet all the basic requirements for a family car, including a standard 7-inch touchscreen, Apple CarPlay, and Android Auto. This matches the Outback perfectly, but the Subaru gets a leg up with its optional 11.6-inch touchscreen, whereas the Regal TourX's tops out at 8 inches.
Being a legit luxury model, the V60 has a larger 8-inch standard touchscreen and standard smartphone integration. Like the Outback, the V60 also has an optional tablet-style touchscreen. The Volvo also has available Nappa leather seating and other premium amenities to go with its luxury-car status that the Regal TourX lacks.
Safety is a significant sore spot for the Regal TourX, as it offers plenty of advanced stay-safe gear, but it's all optional. This includes rear parking sensors and blind-spot monitoring in the Driver Confidence Package I, and automatic emergency braking, adaptive cruise control, and lane-keeping assist in the Driver Confidence Package II.
The Regal TourX's competition is far more in tune with the times. Both the Outback and the V60 come standard with automatic emergency braking and lane-keeping assist, while the Subaru also has standard adaptive cruise control.
Strong engine, but lacks options to compete. The Regal TourX boasts a standard 2.0-liter turbocharged four-cylinder engine that delivers 250 horsepower. This power flows through an eight-speed automatic transmission and out to an innovative twin-clutch all-wheel-drive system.
This powertrain makes quick work of the Outback's standard 182-hp four-cylinder engine and is right on the heels of its optional 260-hp turbo four-pot. The Regal TourX even matches the more premium V60's 250-hp base engine. However, the V60 is available with a supercharged plug-in hybrid powertrain that's good for 415 hp.
An analysis of these powertrains shows exactly where the Regal TourX is lacking. It needs an optional engine to better compete with the limited rivals it has. Buick already offers a 310-hp V6 in the standard Regal, and this would have been a welcome addition to the wagon lineup.
Final thoughts. The 2020 Buick Regal TourX is exactly what the automaker intended it to be: a 'tweener model that provides a bridge between luxury and mainstream. This wagon delivers well on that intention, but there are many compromises buyers must make when choosing it over its mainstream and luxury counterparts.
If value is what you seek, the Regal TourX isn't it. The Outback starts at a lower price and offers many of the same standard features. Bump the Subaru's price up to the Regal TourX's, and you can move into the Premium trim that includes a massive infotainment screen, a power liftgate, sound deadening, and more.
Buyers who want true luxury may also find the Regal TourX misses the mark in many ways. Sure, its base model has a whisper-quiet cabin, but its relatively small infotainment screen and basic design drag it down. Even if you dress it up by moving into the Preferred or Essence trims, you can't match the V60's premium goodies.