Model Preview
The Cadillac Escalade went through a full redesign in 2015 and has remained mostly unchanged since. With this look still fresh in the slow-to-change large SUV segment, we expect the 2020 Cadillac Escalade to be a carryover model.
The Escalade's 2015 redesign retained its blocky, upright body but brought in sharper headlights, taillights, grille and body lines. Inside, the redesign ushered in a more premium than ever cabin that looked far less truck-like than before and with all the upscale amenities buyers expected in a luxury SUV. We expect this look to carry into the 2020 Escalade unchanged.
With no changes to its appearance, we also anticipate the same list of standard features in the 2020 Escalade. If this is the case, it will come standard with tons of desirable goodies like 12-way power front seats, an 8-inch touchscreen, Android Auto, Apple CarPlay, a 16-speaker audio system, and more.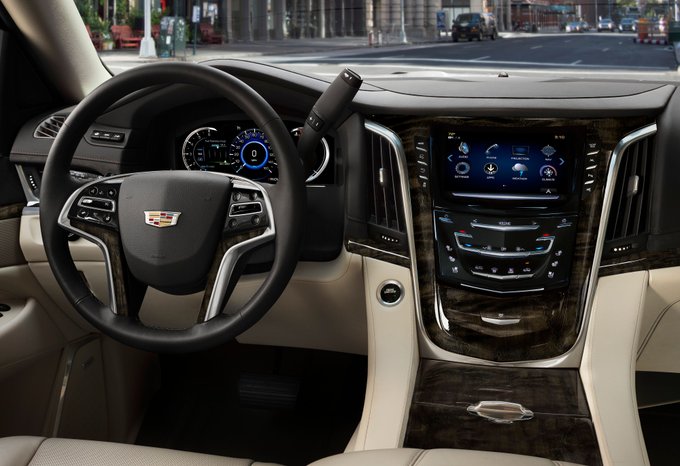 The under-the-skin bits should also remain the same, so we plan to see the same 6.2-liter V8 engine with 420 horsepower and 460 pound-feet of torque paired to a 10-speed automatic transmission. Rear-wheel drive will remain the standard setup, but four-wheel drive will be available.
The IIHS has not tested the 2019 Escalade for safety, and the NHTSA has only tested it in side-impact and rollover safety, which it received five and three stars, respectively. Though there are no ratings, the current Escalade has advanced active safety features like low-speed automatic emergency braking, active lane control, and blind-spot monitors in the Luxury trim. Unfortunately, these features are not available on the base model. We expect no changes in the safety ratings or features in the 2020 Escalade.
Pricing & Release Date
According to fleet production schedules, the 2020 Cadillac Escalade will begin production in June 2019.
Pricing has not been announced, but its lack of changes point toward minimal changes compared current Escalade's MSRP range of $76,490 to $101,590 (destination fees included).
The 2020 Cadillac Escalade will compete with the INFINITI QX80, Land Rover Range Rover, and Lexus LX.
Learn about the current Escalade on sale now »
Pictured: 2019 Escalade