Dated but serviceable pickup truck. The mid-size pickup truck segment has been a finicky one of late, as it was super popular throughout the 1980s and 90s but faded to the point where the Big Three – General Motors, Ford, and Chrysler – pulled out in the early 2010s.
GM returned to the mid-size truck space with a revamped Chevrolet Colorado and its near-identical twin, the GMC Canyon, in 2015, but not much has changed since then, making the 2020 Chevy Colorado seem a bit dated.
More customization than you can shake a stick at. The Chevrolet Colorado may be a bit dated, but it still offers superior customizability in the mid-size space. While competitors like the Ford Ranger and Honda Ridgeline offer limited cab and bed configurations, the Colorado meets the needs of more buyers with three configurations: extended cab with a long box, crew cab with a long box, and a crew cab with a short box.
The Colorado's customization goes beyond just body styles, as it also offers a rugged package tuned just for off-roaders. The ZR-2 package not only tosses rock-climbing-ready tires and suspension under this mid-size pickup, it adds modified bumpers and bash plates for additional clearance, making it a legit off-roader.
The Tacoma TRD Pro and Ford Ranger FX4 get close with their off-road underpinnings, but they fall short in off-road-specific body modifications.
Body options, check. Off-road ready, check. And now powertrain options. The Colorado not only has the typical four- and six-cylinder engine options, but it also has a 2.8-liter turbodiesel four-cylinder engine that delivers 186 horsepower and a stump-pulling 369 pound-feet of torque.
On top of being ready to raze a barn, this diesel engine is quite thrifty at an EPA-estimated 30 miles per gallon highway and pushes the Colorado's towing capacity to a class-leading 7,700 pounds.
Workers like features too, you know? Anyone who worked at a job that required them to drive a company truck all day remembers just how stripped down they were. You were lucky enough to have an AM/FM radio with crummy reception and a pair of buzzy speakers to distract you from the cracked vinyl seats that have sun dried into perfect little tips that randomly poke you to make sure you're awake – early driver awareness monitor, maybe?
The Chevy Colorado isn't that truck, as it's surprisingly well equipped from its fleet-ready trim through its range-topping ZR2 model.
The base and Work Truck models, which are generally for fleets, include the standard vinyl or cloth seating, though the vinyl is far more supple than years ago, but they also add creature comforts like air conditioning, a four-way power driver's seat, a 7-inch infotainment system, and Apple CarPlay and Android Auto.
Of all its competitors, only the Toyota Tacoma is generous enough to include Android Auto and Apple CarPlay standard.
The more retail-customer-friendly LT trim adds more features, including an 8-inch touchscreen, keyless entry, a leather-wrapped steering wheel, a six-way power driver's seat, and more.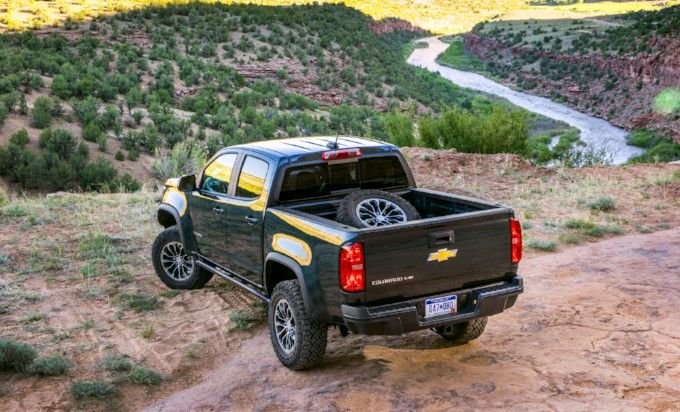 Dated and not-so-safe cabin. Look, there's no hiding the fact the Chevrolet Colorado is entering its sixth model year in a class that's changing quickly. Its upright and chunky cabin may be good for work, but it does little to please the eye. With stylish and creative cabins in the Ridgeline and Toyota Tacoma, it's tough for the aging Colorado to keep pace.
While style is forgivable, safety may not be, and the Colorado fall near the back of the crowd in this area. The IIHS gave it "Good" ratings in most crash tests, but a "Marginal" score in the passenger's side small-overlap test is scary. The federal testers were no more generous, as the NHTSA gave the Colorado a four-star in frontal collision and a three-star rollover rating.
On top of so-so safety ratings, the Colorado has an apparent lack of active safety features. Sure, you can opt for forward collision and lane departure warnings on the LT trim, but there's no optional automatic emergency braking, blind-spot monitoring, lane keeping assist, etc.
The Tacoma offers all these features standard, and the Ranger and Ridgeline offer them as options, making them the more suitable options for families.
Final thoughts. The 2020 Chevrolet Colorado may be a bit dated in safety and looks, but it checks virtually every box in terms of being a great pickup truck. It has all the cab, bed, and engine options any buyer could need in a mid-size truck, plus it adds a legit off-road buggy in the ZR2 model.
Families looking for a truck that can double as a family ride will find this in the safer Tacoma and Ridgeline. Also, the Ridgeline offers a roomier and quieter crossover-based cabin. Truck shoppers who don't feel like wading through dozens of options will find a far simpler, but just as capable, lineup in the Ranger.