Redesign Preview
Though it was shot down many times, the mid-engine Corvette has been discussed for many years. The discussion is officially over, as Chevy has all but confirmed the 2020 Corvette, which will be the start of the C8 generation, will arrive with a mid-engine setup via a revealing B-roll video and teaser images.
So, what should you expect from the 2020 Chevy Corvette when it finally arrives? Visually, we expect the most dramatic turn in Corvette styling since the arrival of the pop-up headlights in the C2 generation. With the engine shifting to the rear, we expect more supercar-like proportions that include a shorter nose and a longer tail, which you can see in Chevy's video and images. Under all its camo, you can also see a sharper nose that protrudes outward and massive air inlets on the rear fenders that either cool the world's hottest rear brakes or feed air into a rear-mounted engine.
There are very few images of the 2020 Corvette's interior, but some shots have shown off a semi-square steering wheel with downward-sloping dual posts and a digital gauge cluster with a G-force meter. Looking back in time, Chevy upped the ante when creating the C7 Corvette, making it the best 'Vette interior to date. With the 2020 Corvette entering higher-end territory, we expect even more premium features and some added sportiness to go with its new mid-engine setup.
The burning question is what's lurking behind the seats? With the latest Camaro right on the C7 Corvette's bumper, Chevy will likely go all out in this department to put a little breathing room between its resident sports cars.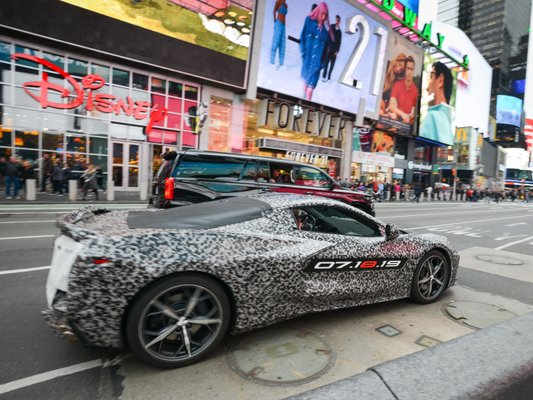 We expect to see a retuned version of the existing 6.2-liter V8 engine that delivers around 500 horsepower. Reports also indicate there will be a flat-plane-crank 5.5-liter V8 with about 600 hp and a twin-turbo model with around 800 hp. Even wilder are reports of a 1,000-hp hybrid model with a twin-turbo V8. The latter powertrain seems to be the appropriate spot for the "Zora" trademark Chevy has sat on. Whether or not these various powertrains will all arrive in 2020 remains unknown.
The type of safety equipment the 2020 Corvette will include remains unknown at this point. Our best guess is it will have only the most basic equipment required to meet government regulations. It's not like the IIHS or NHTSA will test it anyway.
Pricing & Release Date
The 2020 Chevy Corvette will debut on July 18, 2019, 50 years after the Apollo astronauts entered the moon's gravity. We should learn more about rough pricing around that time. We do, however, expect an increase relative to the current Corvette, which ranges from $58,990 to $130,590 (destination fees included).
The 2020 Chevy Corvette will compete with the Nissan GT-R, Porsche 911, and Audi R8.
Learn about the current Corvette on sale now »
Pictured: 2020 Corvette