Corvette styling, mid-engine design. We worried that the all-new mid-engine layout in the 2020 Chevrolet Corvette would result in a radical design. Well, the design is radical, but Chevy pulled things off with an ideal blend of contemporary and forward-thinking design cues.
Yes, the hood is shorter, but the cabin is longer and pulled forward, making room for the engine compartment ahead of the stretched rear deck. Corvette's familiar face, popularized over the past two generations is quite evident, although the larger front air intakes and gigantic air ducts ahead of the rear wheels are among the significant changes of note. Overall, the look is stunning and aesthetically pleasing.
The C8 Corvette retains the hatchback design, which also means you can view the engine through the rear. The hatch itself acts more like a hood, as it's vented to keep the engine cool. You can still store things in the rear and now have a small storage compartment upfront.
Get your speed freak on. One of the most stunning attributes of the Chevy Corvette is its speed. We only have information about the base Stingray model, which comes with an updated version of the long-popular 6.2-liter V8 engine.
This naturally-aspirated engine generates 490 horsepower and 465 pound-feet of torque and works with an eight-speed dual-clutch automatic transmission, which signals an end to a manual gearbox for this super Chevy.
What's startling about this model is that it's 0-60 mph time is under three seconds, which rivals the best time of any Corvette to date. Credit the engine's layout, the lightweight design, and engineering tweaks to ensure that this eighth-generation Corvette gets off to a fast start. We can't wait to see what GM does with subsequent models.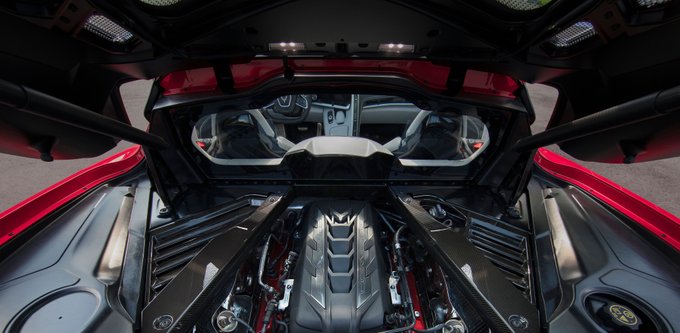 Z51 Performance Package returns. What's a Corvette without an available Z51 package? This one includes a performance-tuned suspension, larger brakes with the Z51 logo covering the calipers, improved cooling, a unique axle ratio, and a performance exhaust system.
Buyers of the Z51 Performance Package may also opt for the Magnetic Selective Ride Control dampers. This system allows owners to adjust their car's ride from track mode to smooth cruising. In effect, it supplies a less firm driving experience while on the open road.
Improved interior. Corvettes have long trailed the competition in all things interior quality. Even with the great strides made with the C7 Corvette, there were enough plastics and cheap materials present to place a damper on the vehicle.
For 2020, Corvette's designers went to work to improve the vehicle's cabin, beginning with better sight lines. A squared-off steering wheel is unique, its small diameter ideal for scanning the fully customizable digital instrument panel and cabin controls.
Three seat designs are available and come wrapped in leather. Standard, sportier, and track-focused seats are the choices, with special stitching and bolstering accompanying each one.
Suede is prevalent, from the headliner to the door panels, delivering a more sophisticated look. Aluminum trim and carbon-fiber inserts are also apparent. The overall design is a great leap forward for the Corvette.
Take note of the price. GM promised that the all-new Corvette would start for less than $60,000, and the automaker delivered. Indeed, the base price comes in at $59,995 including destination. What's amazing about the price is that it's tens of thousands of dollars less than comparable models.
It's doubtful that any Corvette in dealership hands will come in at the base price, however, as most buyers will opt for special features, including upgraded wheels, unique paint, and other options.
We've seen pricing sheets for well-equipped models coming in around $80,000, but that's still $20,000 under the cost of the Porsche 718 Cayman GT4, which is perhaps its strongest competitor.
Final thoughts. The 2020 Chevy Corvette represents a paradigm shift for this super model. Years of buzz gave way to the big reveal and now the new model is upon us. We can only hope that its execution and release parallel our expectations.
A convertible version is also available and comes with the Corvette's first-ever retractable hardtop. The two-section design opens and closes at speeds up to 30 mph and accomplishes that task in just 16 seconds.