Model Preview
With the Chevrolet Silverado going through a complete redesign in 2019 that ushered in a new look, platform, and powertrain options, we expect the 2020 Silverado 1500 to be a carryover model.
As a carryover, we expect no big changes to the 2020 Silverado's looks. In fact, with its all-new design being one of the freshest in the segment, it may lack even the slightest updates. This update also brought in additional lightweight materials that shaved up to 450 pounds off the Silverado despite it being larger in nearly every dimension. We expect it to keep this weight off in 2020.
Inside, we expect the 2020 Chevrolet Silverado 1500 to continue with the updated look and feel it gained in 2019. While the interior is more stylish than before, it's still distinctly a pickup truck with its blocky dashboard layout, upright instrument panel, and vertically oriented center stack. Despite retaining its pickup truck design, there will be plenty of modern tech available inside the 2020 Silverado, including 7- and 8-inch touchscreens, Apple CarPlay, Android Auto, 4G LTE Wi-Fi, and more.
With no changes in store, we expect the 2020 Silverado 1500 to continue with all the same standard features as the current model. This will include the basic get-work-done features like air conditioning, a 7-inch infotainment system with Apple CarPlay and Android Auto, a six-speaker audio system, a 12-volt power outlet, a front USB port, a rearview camera, a urethane steering wheel, 12 cargo tie-downs, a cargo area light, a Durabed cargo box, and more.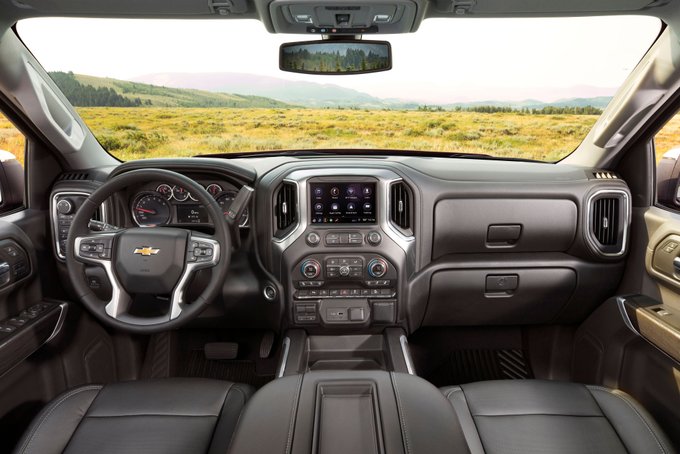 Under its hood, we expect the same range of powertrain options in the 2020 Silverado 1500. The base setup will remain a 4.3-liter V6 with 285 horsepower and 305 pound-feet of torque pair to a six-speed automatic transmission. Next will be a 5.3-liter V8 with 355 hp and 383 lb-ft of torque paired to a six-speed or eight-speed automatic transmission.
The next step up will be a 2.7-liter turbocharged four-cylinder engine that pumps 310 hp and 348 lb-ft of torque through an eight-speed automatic transmission. The range-topping gasoline engine will remain a 6.2-liter V8 with 420 hp and 460 lb-ft of torque that pairs with a 10-speed automatic transmission. Finally, for those who want a diesel pickup, we expect Chevy to continue to offer the 3.0-liter inline-six turbo-diesel engine that pushes a still-undetermined amount of horsepower and torque through a 10-speed automatic transmission.
As a new-generation pickup, Chevy focused on safety in the 2019 Silverado, and we expect this to remain the same in the 2020 model. We expect it to continue with its standard rearview camera mirror and available HD surround-view camera, front and rear park assist, lane-change alert, blind-zone monitor, rear cross-traffic alert, forward collision alert, lane-keep assist, lane-departure warning, automatic emergency braking, and more.
Pricing and Release Date
There is no official release date for the 2020 Chevrolet Silverado, so stay tuned for updates.
With no changes on the horizon, we expect no big shifts in price from the 2019 model's MSRP range of $33,695 to $58,095 (destination fees included).
The 2020 Silverado will compete with the same cast of light-duty pickups as before, including the Ford F-150, RAM 1500, and Toyota Tundra.