Aged design. The 2020 Chevrolet Sonic looks great, but its advanced age shows. Released in 2012, the Sonic has experienced only small changes since. Similar models from Kia, Honda, and Toyota are much newer.
We do like the refreshed exterior, which rolled out back in 2017. The hatchback is the sportier of the two appearance-wise and wears its sheet metal well. The sedan seems unbalanced, but we hesitate to call it ugly.
Inside, the cabin remains one of the plainest we've seen in the subcompact segment. Plastic is everywhere and the steering wheel and center console look like they're stuck in the first decade of this century. However, we do give the Sonic props for comfortable front seats that even a tall driver can love.
Quick and fun. Chevrolet no longer offers the 1.8-liter four-cylinder engine, but that's no loss. All models come with a 1.4-liter turbocharged four-pot, and it's fun to drive.
This lively engine is well-suited to the Sonic, although it isn't especially fast when moving away from a dead stop. On the wide-open road, it's another thing, as it puts down ample power for merging and passing.
The six-speed manual transmission is no more, leaving the six-speed automatic transmission to send power to the front wheels. Playful and tossable, the Sonic offers responsive steering and engaging handling. More props to the Sonic for its superior suspension quality.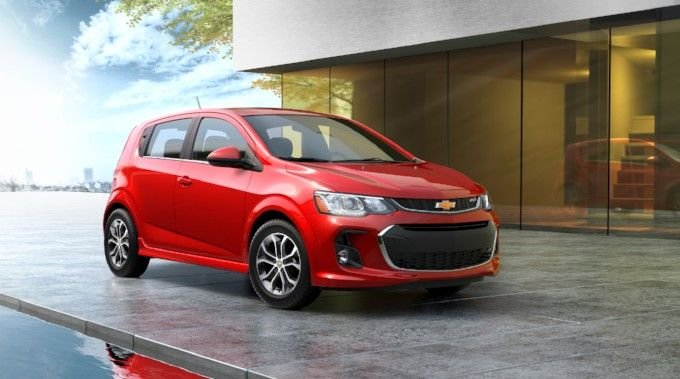 Solid safety scores. Although small in stature, the Chevrolet Sonic is big in all things safety. The NHTSA and IIHS give this model high marks in most categories. Since its inception, the Sonic has boasted a roster of 10 airbags.
You'll find a few driver assist safety features, but not as many as you'd discover with newer models, including the Toyota Yaris. Forward collision warning, lane departure warning, and rear park assist are available.
Ample available storage. Lots of small cars come with tiny storage compartments, but not so with the Sonic. Here, you'll find 14.9 cubic feet of storage space in the sedan's trunk, which rivals the mid-size Malibu sedan.
Choose the hatchback and the standard space is 19 cubic feet behind the second-row seat. That number nearly doubles with the rear seat folded and rivals the space you'll find small crossovers such as the Chevrolet Trax. In any case, there are ample storage pockets throughout and plenty of cup holders.
Decent tech offerings. The Chevy Sonic comes with a 7-inch touchscreen display, a four-speaker audio system, OnStar, Bluetooth, two USB ports, and wi-fi hot spot capability.
You'll also find Apple CarPlay and Android Auto smartphone compatibility. Some models include a six-speaker audio system.
Final thoughts. The small car segment continues to shrink as manufacturers make their exit in the face of strong demand for crossovers. But small cars bring in a value proposition that shouldn't be overlooked.
Indeed, with discounting, prices for the 2020 Chevrolet Sonic start far below $20,000. However, newer models from competing Korean and Japanese manufacturers are worth cross-shopping, as the interiors are nicer and the roster of safety equipment offered is simply better.