Room for everyone. The 2020 Chevrolet Suburban's main job is to haul people and things, and it does its job well. The large SUV has seating for up to nine thanks to three bench seats. The Suburban also offers consumers with flexible seating options with seating for eight or seven.
With available leather upholstery, heated and ventilated front seats, tri-zone climate control, power second-row bucket seats, and heated second-row seats, the Suburban is capable of coddling passengers in upscale niceties, too.
When it comes to cargo space, the Suburban leads the class. It's capable of holding up to 121.7 cubic feet of cargo. Behind the second row, the SUV has 76.7 cubic feet of space, which shrinks to an impressive 39.3 cubic feet of space behind the third row.
If the Suburban's cargo space isn't enough, it has plenty of storage bins throughout the cabin, including a nifty hidden storage space underneath the cargo floor.
Immensely powerful V8 engines. With a curb weight of roughly 5,500 pounds, the Suburban needs powerful engines to get it down the road, and it has them. The base engine is a 5.3-liter V8 that produces 355 horsepower of torque. A 6.2-liter V8 is available on the range-topping Premier trim that's rated at 420 hp.
With a towing capacity of up to 8,300 pounds, the Suburban is one of the few vehicles on the road that can carry an entire family and tow large cargo.
Versatile, helpful features. With a starting price tag of $52,995, the Suburban isn't exactly cheap, but it does come with a good list of standard equipment.
The base LS trim comes with an 8-inch touchscreen, Bluetooth, Apple CarPlay, Android Auto, multiple USB ports, a six-speaker audio system, and wi-fi hot spot capability. It's a strong list of standard features that make the base trim attractive.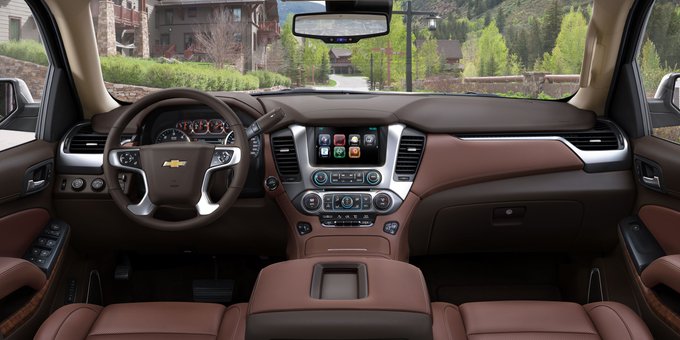 Terrible, behind-the-times fuel economy. Because of its large size and enormous V8 engines, the Suburban is far from efficient. The best it can get is up to 18 miles per gallon combined, according to the EPA.
That figure is for the base engine with rear-wheel drive. Going with the available 6.2-liter V8 and four-wheel drive, the Suburban is rated to get 16 mpg combined.
Even for the large SUV segment, which has seen some options move to smaller, turbocharged engines, the Suburban's fuel economy is lackluster at best.
Very little standard safety features. If there's one area where the Suburban really shows its age, it's when it comes to standard safety features. With only rear parking sensors to show, it's well behind the times compared to the competition.
Nearly every modern safety feature is optional. Things like automatic emergency braking, lane keeping assist, blind-spot monitoring, and adaptive cruise control are all available. Unfortunately, a lot of these features are only available through extra-cost packages on the LT trim and above.
Final thoughts. With an all-new version around the corner, the 2020 Chevrolet Suburban is one of the few SUVs on the road that feels more like a pickup truck. For passengers that need to seat up to nine, hold up to 121.7 cubic feet of cargo, and tow up to 8,300 pounds, few options can match it.
Complaining about fuel economy with a vehicle like the Suburban doesn't make much sense, but it does when the competition has better numbers. For a vehicle that's all about transporting a lot of people around, it lacks safety features that are found on much more affordable and smaller vehicles.
When it comes to the competition, the Ford Expedition Max is the latest and greatest. While the Expedition Max has less maximum cargo space and seating for up to eight, it has a more powerful turbo V6 engine, much better fuel economy, and a more comfortable ride. The Expedition Max can also up to 9,300 pounds.
For consumers that want unshakable reliability and immense off-roading capability, there's the Toyota Land Cruiser. Much, much more expensive than the Suburban, the Land Cruiser has a luxurious ride, a more powerful V8, nicer interior materials, and more standard safety features. The Land Cruiser can't match the Suburban when it comes to cargo space, however.