FIAT is no stranger to electric vehicles. In fact, it's been in the segment since the 2013 release of the 500e. Sadly, the 500e has been nothing short of a cash drain for FIAT, as even the brand's late boss Sergio Marchionne begged the public not to buy it to save the company money. Now, a new report from Top Gear hints at an all-new 2020 FIAT 500e hitting showrooms soon, possibly as a standalone model.
There are no reports on what to expect visually from the 2020 FIAT 500e, but the brand's boxy Centoventi concept could give us a rough sketch of what's to come. While it retains the key proportions that make a FIAT a FIAT, its features harder angles and a more upright stance. Inside, the Centoventi concept is too wild to make sense in production, but we expect an unconventional interior, much like the current FIAT 500, but tuned for electric driving.
There are no specifics on what will power the 2020 FIAT 500e, but we expect a significant upgrade from the current 500e's 111-horsepower electric motor. Top Gear pressed its source, FIAT marketing head Francois Oliver, about a potential Abarth model, and he said he supported an Abarth model to compete with the upcoming MINI Cooper S E, but cannot confirm it. There are also rumblings of this being a rear-engine, rear-drive vehicle like the original, but Oliver cheekily pled the fifth but said it will be "very true to the spirit of the original 500."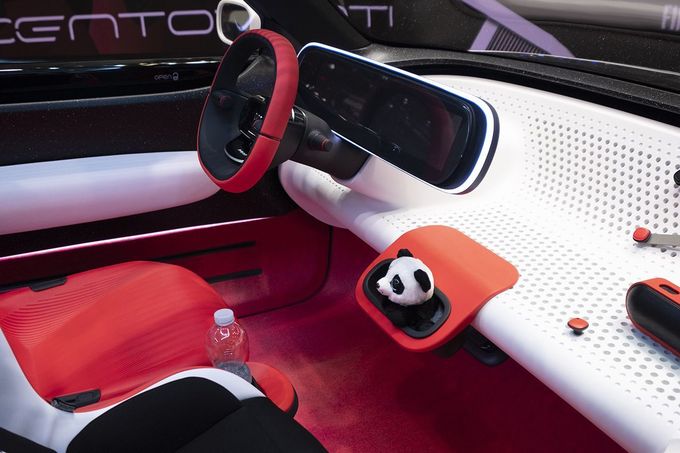 In terms of safety, the current FIAT 500 is scary with its "Poor" rating in the driver-side small overlap test. It also lacks any active safety tech like automatic emergency braking, but there are parking sensors on all but the base model. With the new-generation 500e, we expect more safety features, but we'll temper our expectations until its official debut at the 2020 Geneva Auto Show.