Ready for the big leagues. When Hyundai spun off the Genesis nameplate into its own brand, it was hard to take it seriously. Today, Genesis has a lineup of sedans that can go toe-to-toe with the best in their respective classes and an upcoming crossover lineup that's sure to do the same.
The 2020 Genesis G70, the smallest of the sedans, has an uphill battle against legends like the Audi A4, BMW 3-Series, and Mercedes-Benz C-Class. But with its powerful engines, good looks, and available manual transmission, it's here to compete.
Lots of sportiness, but compromise required. There's no denying the Genesis G70 is a legit contender among compact luxury sedans. Being a player in this space involves performance credentials to go with luxurious amenities.
Its base 2.0-liter turbocharged four-cylinder engine injects 252 to 255 horsepower and launches the G70 to 60 mph in under seven seconds. This aligns it well with the big boys from Mercedes and BMW, but where the four-cylinder G70 sets itself apart is its available six-speed manual transmission. Yes, a row-your-own option in a luxury sedan.
For even more performance, you can opt for the 3.3-liter twin-turbo V6 engine that delivers 365 hp and drops the 0-60 mph sprint to just 4.5 seconds. That's right in line with the BMW M340i and the Mercedes AMG C 43. The big downside to this potent V6 is its $10,000 entry fee.
The G70 also delivers impressive handling, but unlike its more refined German competition, the G70's ride is stiff or stiffer. No drive mode offers that luxurious ride the 3-Series and C-Class do.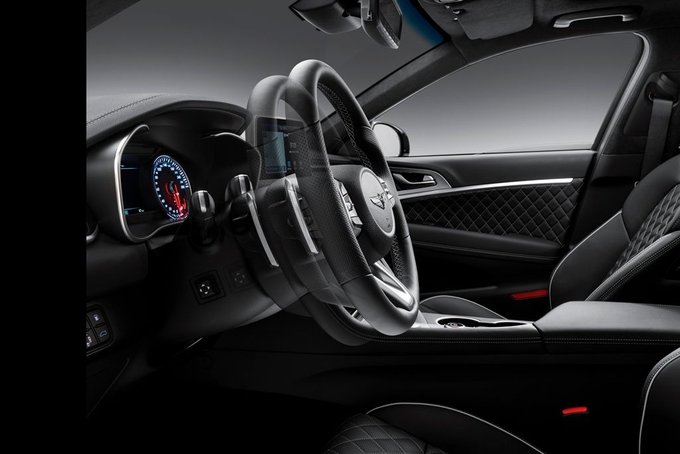 Style inside and out. The G70 also delivers in style with a unique-looking exterior that carefully combines sportiness and style. There isn't a boring angle on this luxury sedan, and its sporty proportions rival BMW and Mercedes well.
Inside, the G70 delivers the goods in the luxury department with its available quilted-leather seats and visually widening horizontal lines. The cabin's also angled toward the driver slightly, giving it the sporty, driver-focused feel to match its exterior.
With 34.8 inches of rear legroom, the G70's rear seats are tighter than the 3-Series (35.2 inches) and A4 (35.7 inches). These seats do, however, beat the super-tight rear-seat legroom in the Cadillac CT4 (33.4 inches) and the C-Class (32 inches).
Compounding its limited interior space is the G70's 10.5-cubic-foot trunk, which is larger than only the C-Class (8.8 cubic feet). The most glaring trunk-space gap comes in the 3-Series, which has a midsize-like 17-cubic-foot trunk.
Plenty of features. Though it's limited on space, the G70 is far from limited in standard features. It comes with power-adjustable front seats, automatic climate control, an 8-inch infotainment touchscreen, Apple CarPlay, Android Auto, and three USB ports.
The 3-Series comes standard with only Apple CarPlay, leaving Android device owners on the outside. While the A4 and C-Class boast larger standard touchscreens at 10.1 inches and 10.3 inches, respectively, these sedans come at significant premiums relative to the G70. The G70 starts at $36,445, while the A4 is priced from $38,395 and the C-Class costs $42,395.
Final thoughts. It's easy to look at pricing and say the 2020 Genesis G70 is a great buy just on its low starting price. That would be a disservice, as the G70 is a legit competitor in the compact luxury sedan class.
Sure, value is what will draw buyers in, but its performance and style will make any BMW or Mercedes shopper take a second look. It may even be enough to overcome its relatively unknown nameplate.
Buyers who need a sedan with more space will find the trunk and rear legroom they need in the 3-Series. Shoppers who crave blistering performance – a 0-60 mph time under four seconds – will have no choice but to head to the local Mercedes or BMW showroom to pick up an M or AMG model.