Comprehensive refresh, bold look. The 2020 GMC Acadia rolls in boasting a significantly different look, front and rear. This is all thanks to a comprehensive refresh that slapped on a new nose and tail while retaining the overall shape and size from the previous model year.
This new look includes flatter headlights and a bolder grille that widen the front end and give it almost a truck-like look, a new front bumper with new fog light housings, new taillights with distinct LED signatures, a reworked rear bumper, and all-new exhaust outlets.
There's also a new AT4 model that adds some rugged bits like a black-and-chrome grille, black body cladding, unique 17-inch wheels, and all-terrain tires.
Inside, the bulk of the Acadia remains the same, save for two new USB-C connections, a 15-watt wireless charging pad, updated infotainment software, a new standard 8-inch touchscreen, and a push-button shifter.
Rounding out the updated Acadia is a new 230-horsepower, 2.0-liter turbocharged four-cylinder engine option slotted between the 2.5-liter four-cylinder and 3.6-liter V6. All three engines pair with a standard nine-speed automatic transmission.
Rugged design. The Acadia's all-new look is refreshing. Gone is the rounded front end that softened it up for the masses and in comes a chunkier truck-like nose that appeals to crossover shoppers who've grown tired of the vanilla styling in the segment.
The problem is that this segment is vanilla for a reason. Going too extreme in one way or another can result in a quick drop in sales because more reserved buyers will turn their noses up at anything too wild. It's not that the Acadia is overstyled, but its nose may be a little too truck-like for some shoppers.
Buyers who prefer the simpler look may flock to the Subaru Ascent, Honda Pilot, or the Nissan Pathfinder.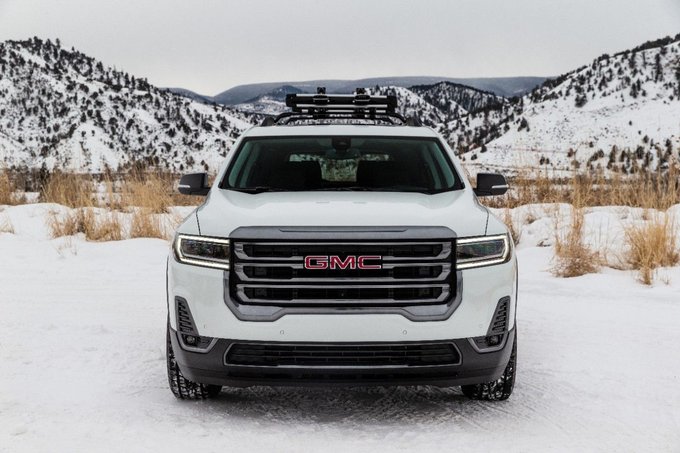 AT4 model still a soft-roader. The GMC Acadia AT4 does its best off-roader impression with unique 17-inch black wheels wrapped in knobbier all-terrain tires, a black grille, black roof-rack side rails, and more. Heck, it even slaps in the 310-hp V6 engine, twin-clutch all-wheel drive, and hill-descent control for good measure.
That's all well and good, and it looks great in a parking lot or sitting in a grassy field, but its 7.2 inches of ground clearance and standard suspension do nothing to help it off the beaten path. Snow, a little mud, sand, and loose gravel are all no problem, but you may want to pass on the log or rock climbing in this one.
If you're into that kind of thing, you should look to the Jeep Grand Cherokee Trailhawk. It looks the part and has the undercarriage to handle moderate off-roading.
Loads of technology. The Acadia is chock-full with premium features, even in its base SL trim. This long list includes desirable tech goodies like an 8-inch high-resolution touchscreen, Android Auto, Apple CarPlay, 4G LTE wi-fi, five USB ports, and more.
Many of the Acadia's competitors cannot keep up in this department. The Pilot, for example, comes standard with a 5-inch non-touchscreen and optional Apple CarPlay or Android Auto. The 2019 Pathfinder also lacks Apple CarPlay and Android Auto, but unlike the Pilot, they're not available as options either.
Where the Acadia falls flat is safety tech, as all trims south of the Denali require at-cost packages to get automatic emergency braking, lane-keeping assist, automatic high beams, and other important safety goodies.
Models like the Pilot, Ascent, Ford Explorer, and others in the segment come standard with some or all of the latest active safety tech.
Final thoughts. The 2020 GMC Acadia is a stylistic breath of fresh air in a segment that was getting a little stale. And its AT4 model adds a special touch of ruggedness, although it's still a softy at heart. Add to this all the tech goodies the younger crowd wants, and the Acadia could be a great option for a young family to grow into.
That said, you want to keep your family safe, and the Acadia makes you pay to do that while so many others deliver this safety at the base level. If you're more focused on keeping your family safe rather than entertained, you may want to check out the Pilot, Explorer, Ascent, or Volkswagen Atlas.