Oldie but a goodie. The GMC Canyon returned to the scene with a new look in 2015, and it remains relatively stylish today. Despite its age, the 2020 GMC Canyon remains solid in looks and tech. The latter is both a strong and weak point, though, as its standard infotainment system is robust and includes Android Auto and Apple CarPlay.
In terms of safety tech, though, the Canyon falls on its face while the competition continues to improve.
A trim for every shopper. Pickup trucks have become some of the more versatile vehicles on the planet, as their buyers range from fleet customers seeking cheap wheels to beat up to families looking for premium features and upscale upholstery. This has bled into the mid-size pickup segment, and the GMC Canyon is ready to meet every customer's needs with its six trims.
The base SL is a fleet-customer special with its hose-down vinyl seats and flooring, but it still has creature comforts like a 7-inch touchscreen, Apple CarPlay, and Android Auto.
While this tech is common in a base passenger car, trucks are another story. For reference, the Ford Ranger comes standard with a 4.2-inch screen and no smartphone integration. The Honda Ridgeline also lacks standard smartphone integration but adds a 5-inch infotainment screen.
More retail buyers will shoot for the SLE trim, which adds an 8-inch touchscreen, alloy wheels, a leather-wrapped steering wheel, body-color handles and mirrors, an EZ-lift and lower tailgate, fog lights, and more.
Things get downright luxurious with the SLT and its leather upholstery and the Denali with its navigation, heated steering wheel, and ventilated front seats. Off-road lovers will find a solution in the All Terrain model, which includes an off-road suspension, skid plates, recovery hooks, a blacked-out grille, and more. While this trim offers more off-road readiness, it's not on par with its sibling, the Chevrolet Colorado ZR2.
Three fantastic powertrain options. The GMC Canyon's base 2.5-liter four-cylinder engine is must-skip with its wheezy 200 horsepower and 191 pound-feet of torque. It's easily gobbled up by the Ford Ranger's standard 270-hp turbocharged four-pot and the Honda Ridgeline's 280-hp V6.
On the optional side, the Canyon delivers superior power with its 308-hp, 3.6-liter V6. This engine pairs with a slick-shifting eight-speed automatic transmission for smooth acceleration and up to a 7,000-pound towing capacity. Surprisingly, though, the Ranger can tow 500 pounds more with its turbo four-pot.
If you have deep pockets and want to tow big, you can opt for the 2.8-liter turbodiesel engine rated at 186 hp and 369 lb-ft of torque. While that isn't much horsepower, the low-end toque allows it to tug up to a 7,700-pound trailer. This engine also allows the Canyon to deliver up to 30 miles per gallon highway, according to the EPA. Other than the Chevy Colorado, no other competitors offer a diesel engine, yet.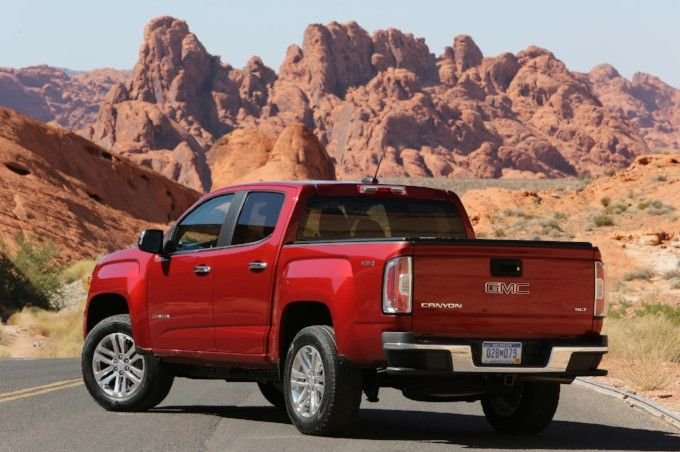 Still looks good, but for how much longer? The GMC Canyon debuted in 2015 and was quickly joined by a new Honda Ridgeline and Ford Ranger. The mid-size pickup segment is slow to change, so the Canyon still looks good for its age, but once the redesigns start piling in, it's doubtful this look will remain relevant. It already looks old next to its big brother, the GMC Sierra, which just went through a redesign.
With the Chevy Colorado getting a refresh, the Nissan Frontier way overdue for a redesign, and the timeless looks of the Toyota Tacoma, the Canyon's current styling is on borrowed time.
Final thoughts. With its wide range of trim levels, options, and engines, the 2020 GMC Canyon is an excellent pickup for just about any buyer, but it's not without its flaws.
One glaring weakness is its lack of any advanced safety tech and so-so crash-test scores. Buyers who put these items at the top of their lists will find these advanced safety features standard in the Toyota Tacoma and Ford Ranger, and optionally in the Honda Ridgeline.
The Canyon's base 2.5-liter engine is also a sore spot. Buyers who want more power and max towing without pricey options will find this balance in the 270-hp base Ranger.