Model Preview
In 2019, the GMC Sierra 1500 went through a revolutionary redesign that made it more advanced, tech-filled, stylish, and feature-packed than ever before. With its redesign still fresh, we expect no major changes to the 2020 GMC Sierra 1500.
Visually, we expect the redesigned Sierra 1500 body to carry over with no changes. With its looks still among the freshest in the light-duty pickup class, the 2020 Sierra 1500 being a carryover should pose any issues. The Sierra also dropped up to 360 pounds thanks to lightweight materials in 2019, and we expect this to remain the same in the 2020 mode.
Inside, the Sierra 1500 also went through significant changes in 2019 that made it more stylish and user-friendly without abandoning its truck roots with a blocky overall design. Check option boxes, and the Sierra 1500's cabin can get downright luxurious with its available 8-inch touchscreen, open-pore wood trim, front bucket seats, leather upholstery, navigation, and more. We expect this to remain the same in 2020
With its lack of visual updates, we expect the 2020 Sierra 1500's standard features to remain the same too. If this proves true, look for it to come standard with power locks and windows, air conditioning, AM/FM stereo with Bluetooth audio streaming, a USB port, Apple CarPlay, Android Auto, vinyl floors, cloth seats, and more. While it is bare-bones at its base level, there are six trims to choose from, including the rugged AT4 and luxurious Denali.
Under its hood, we anticipate no changes to the 2020 Sierra 1500. If this is accurate, the Sierra 1500 will come standard with a 4.3-liter V6 engine that pushes 285 horsepower and 305 pound-feet of torque through a six-speed automatic transmission.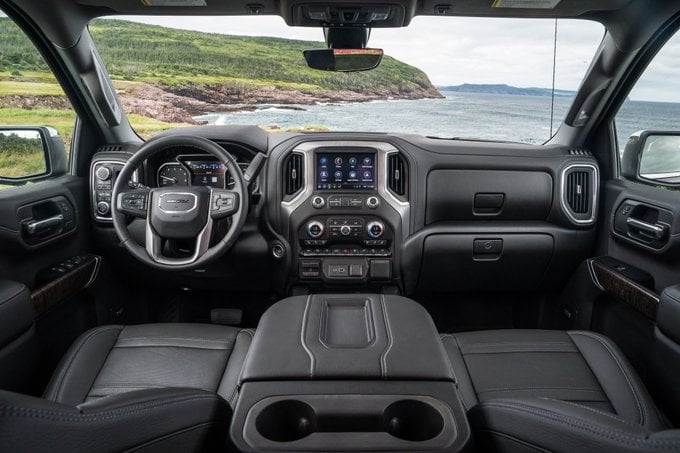 Buyers can opt for a 5.3-liter V8 that will produce 355 hp and 383 lb-ft of torque and pair with either a standard six-speed automatic transmission or an optional eight-speed auto. Want turbocharged power? Opt for the 2.7-liter turbocharged four-cylinder that will pump 310 hp and 348 lb-ft of torque through an eight-speed automatic transmission.
Finally, the range-topping engine is a 6.2-liter V8 with 420 hp and 460 lb-ft of torque and a 10-speed automatic transmission. All 2020 GMC Sierras will come standard with rear-wheel drive and have an optional four-wheel-drive setup.
There are no IIHS safety ratings on the new-generation Sierra 1500, so we are still uncertain how the 2020 GMC Sierra 1500 will perform. That said, we expect its safety features to carry on unchanged, including its available surround-view camera, hitch-view camera, blind-spot warning, forward collision warning, automatic emergency braking, adaptive cruise control, and lane-keep assist.
Pricing and Release Date
There is no official release date for the 2020 GMC Sierra 1500, but stay tuned for updates.
Pricing remains uncertain, but we anticipate no large changes. Look for its pricing to remain close to the 2019 model, which ranges from $34,995 to $59,745 (destination fees included).
The 2020 GMC Sierra 1500 will compete against the Ford F-150, RAM 1500, and Toyota Tundra.
Photos
Pictured: 2019 Sierra 1500