New and old. After a restyling in 2019, the 2020 GMC Sierra 1500 is a torchbearer for understated muscle. The exterior is squared-off and conservative, though it can wear plenty of bling in the upper trims. To our eyes, it's a nice blend of modern and classic.
The big news for this year is the return of another pickup classic: the turbodiesel powertrain. The new 3.0-liter engine brings upgraded efficiency and torque, but it commands a hefty price premium.
The Sierra needs all the tricks it can muster, as the pickup market remains highly competitive. The Ford F-150, the Ram 1500, and the mechanically-related Chevrolet Silverado are all rivals worthy of attention.
Wiggle room. Like those rivals, the Sierra 1500 covers a wide range of budgets and personalities. Workhorse commercial trims start just north of $30,000, but an all-wheel-drive Denali can easily double that.
The Denali, in particular, has been a strong point for past GMCs. This one is no different – open-pore wood trim, aluminum accents, and acres of leather make for a luxury truck that finds few equals. Even better, its adaptive dampers make for a smooth and silky ride.
Comfort is enhanced by a newly spacious Crew Cab. Extensive leg room in both rows means that five adults have room to stretch. With the Crew Cab, the Denali is perfectly capable of taking on family duties.
But the space isn't all we like about the interior. Storage is thoughtful and useful, and good sound deadening helps keep things serene. There's no doubt that the Sierra can be a capable workhorse, but in many ways, comfort is the truck's greatest strength.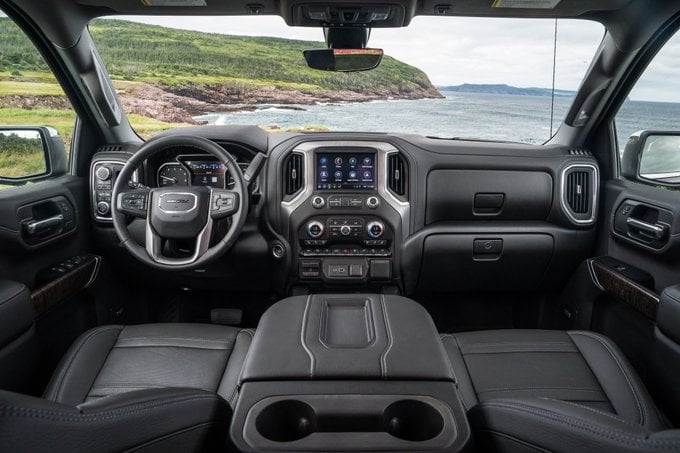 Power at a price. The Sierra 1500's powertrains have some highs and lows. The highs are the two V8s, which check-in at 5.3 and 6.2 liters. Both bring plenty of power and towing capacities between 11,000 and 12,000 pounds. That's not quite as much as the F-150's 13,200 pounds, but the V8s perform well under a load.
We wish we could say the same for the mainstream turbocharged four-cylinder engine. It offers an EPA-estimated 21 miles per gallon combined, but it strains under heavy loads and lacks refinement.
The efficiency champ is the new turbodiesel, but even that engine isn't without its caveats. Despite its 460 pound-feet of torque, the diesel powertrain can't tow more than 9,000 pounds. In most trims, it costs several thousand more than the 5.3-liter V8, which is an engine we think most buyers will appreciate despite its thirstiness.
Spending for safety. We prefer the Sierra with a V8, a comfy interior, and a smooth ride, but all of those features cost a pretty penny. Even SLT trims cost over $45,000, and the cheapest way into a V8 is over $40,000.
But there's one more reason the Sierra is best in higher trims. Bucking recent industry trends, GMC still withholds safety features like automatic emergency braking from base trims.
That's regrettable given the Sierra's crash test record. The NHTSA gave the truck four stars, and the IIHS rated it poorly on headlights and small-overlap crashes.
GMC is on the road to redemption in this arena, with most vehicles getting standard automatic emergency braking next year. Until then, the Sierra remains a relic in the safety department.
Final thoughts. The 2020 GMC Sierra 1500 aims right down the middle for all-around pickup use, and it gets many things right. Comfort is a highlight, and utility is as strong as you'd expect in an American-made truck.
Still, the best powertrains and features live in the upper trims, and that makes the Sierra expensive. We love the Denali, but restricted safety features and unrefined powertrains make lower trims less of a home run. Especially if your budget is on the lower end, the competition is worth a close look.