Model Preview
The GMC Terrain received a much-needed redesign in 2018, bringing in a shapelier body, and all-new cabin, and new turbocharged engines that save fuel while boasting enough power to keep this midsize crossover motivated. With this redesign still fresh, we expect the 2020 GMC Terrain to hit showrooms as a carryover model.
The GMC Terrain went through a massive stylistic shakeup during its 2018 redesign. Gone were the years of choppy right angles and in came more creative cutlines, dramatic lighting, trendy design trends like its floating roof, and the use of more lightweight materials. We expect this sharp, new look to carry on unchanged in the 2020 GMC Terrain.
Inside, the GMC Terran went from blocky and dated to chic and modern in its 2018 transition into its second generation. The new GMC Terrain boasts more shapes and creative changes of direction to please the eyes, plus its standard equipment is generous and includes a 7-inch touchscreen, Android Auto, Apple CarPlay, a leather-wrapped steering wheel, and more. With this all still very fresh and up to date, we expect no changes once the 2020 Terrain hits showrooms.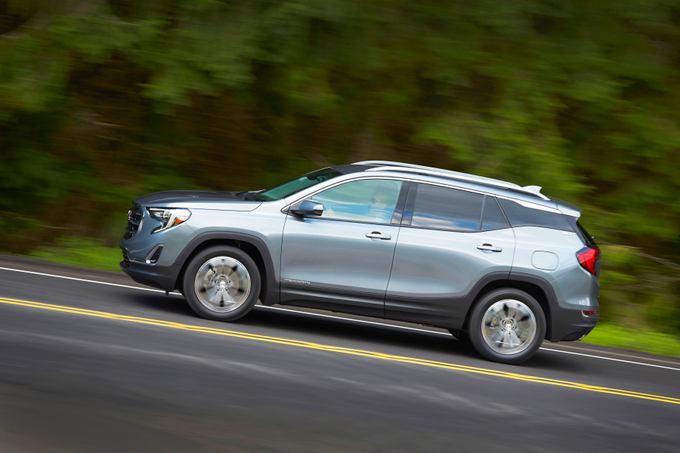 Under the 2020 GMC Yukon's skin, we expect everything to remain the same. If this is the case, it will continue with three engine options that will start with a base 1.5-liter turbocharged four-cylinder engine that cranks out 170 horsepower and 203 pound-feet of torque. The midrange engine, a 2.0-liter turbocharged four-cylinder, will produce 252 hp and 260 lb-ft of torque. The third and priciest engine option will be a 1.6-liter turbo-diesel unit with 137 hp and 240 lb-ft of torque. The two gasoline engines will continue with a slick nine-speed automatic transmission, while the diesel will get a simpler six-speed unit.
The current GMC Terrain aced every IIHS cash-safety test and even received a "Superior" rating in its forward-collision-avoidance test. Where it failed, though, was its "Poor" rating in the headlight tests. One caveat to the great forward-collision-avoidance results: That "Superior" rating was with the optional low-speed automatic emergency braking, which is buried deep in Driver Alert Package II available on SLT and higher trims.
Pricing & Release Date
There is no official release date for the 2020 GMC Terrain, but we expect production to start in mid-June 2019.
Since we anticipate no big changes to the Terrain, we also expect minimal pricing updates compared to its current MSRP range of $26,195 to $40,695 (destination fees included).
The 2020 GMC Denali will compete with the Mazda CX-5, Toyota RAV4, and Chevy Equinox.
Learn about the current Terrain on sale now »
Pictured: 2019 Terrain