Haulin' in style. The GMC Yukon is a hulking SUV, but its sleek lines and slightly sportier design than its Chevrolet and Cadillac siblings give it a sharper and cleaner look. The 2020 GMC Yukon is more than just a good-looking SUV, as it also boasts all the power and technology to meet most buyers' needs while also packing loads of luxury in its higher trims.
Though it ticks a lot of boxes, is it really what the people need in this new world of compact, easy-to-drive crossovers? Keep reading to find out.
Potent powertrain options. While crossovers and some full-size SUVs, like the new Ford Expedition, have replaced V8 power with smaller-displacement turbocharged engines, the GMC Yukon snubs this downsizing with a pair of potent eight-cylinder beasts.
The standard Yukon comes with a 5.3-liter V8 that cranks out 355 horsepower and 383 pound-feet of torque. While this falls short of the Expedition's 3.5-liter twin-turbocharged V6 that pumps out 375 hp and 470 lb-ft of torque, the natural-feeling torque curve of the ol' V8 engine is something you can't replace with turbochargers.
The Yukon gets one up on the Expedition, even the 400-hp Expedition Platinum, with its optional 6.2-liter V8 that produces 420 hp and 460 lb-ft of torque.
The Yukon's key crossover rival, the Chevrolet Traverse, can't come close to either engine with its standard 310-hp V6 and optional 257-hp turbocharged four-cylinder.
These engines and the Yukon's rugged construction lead to an excellent towing capability of up to 8,500 pounds with two-wheel drive. Though it falls 800 pounds short of the Expedition's max towing, the Yukon's naturally aspirated V8 engine's smooth torque curve makes managing a loaded trailer more comfortable.
As for its competition from the crossover side, the Traverse's 5,000-pound towing capacity is respectable for its car-based platform, but it's no threat to the Yukon.
Luxurious, especially in the Denali trim. The GMC Yukon's relationship to the Cadillac Escalade is clear in its craftsmanship and build quality. Even in its lower trim levels, the Yukon boasts comfortable cloth seating, gobs of soft-touch materials, and more. Moving into the mid-range SLT trim, it treats buyers to standard leather and other premium features.
Move into the Denali trim, and the Yukon suddenly becomes a value proposition for Cadillac Escalade and Lincoln Navigator shoppers with its upscale leather upholstery, faux wood trim, heated and ventilated seats, and more.
Shoppers who prefer the base SLE trim won't roll home with a stripped-down SUV either. This rig comes standard with plenty of goodies, including an 8-inch touchscreen, Apple CarPlay, Android Auto, 4G LTE wi-fi, a Bose audio system, rain-sensing windshield wipers, and tri-zone climate control.
The Yukon's smartphone integration puts it head and shoulders above the competition, as the Expedition requires an upgrade to the XLT trim to get these useful features, and the Nissan Armada leaves them off altogether.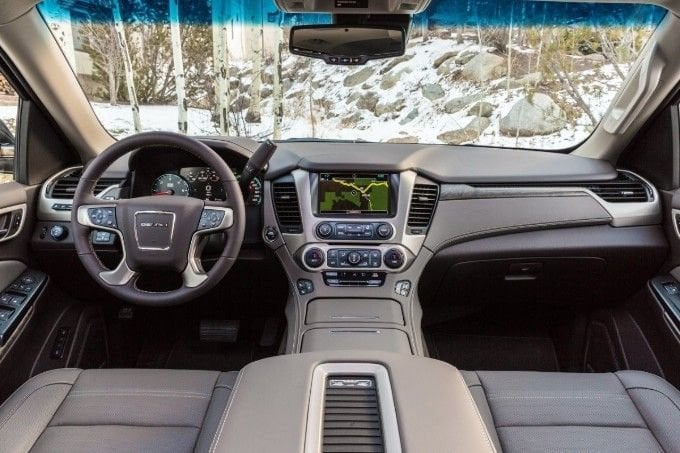 Surprisingly limited in practical space. As a large SUV, buyers may expect the Yukon to swallow passengers and cargo with the best of them. While its 95 cubic feet of cargo room with the seats folded (121 cubic feet in the XL model) are right in line with the Traverse, Armada, and Expedition, its high load floor makes loading cargo a task.
Also, with its third row upright, the standard Yukon can handle just 15.3 cubes of cargo, which falls 1.2 cubic feet short of the Armada, 4.7 cubes short of the Traverse, and 5.6 cubes short of the Expedition.
Opting for the longer XL model will boost the cargo room to 39.3 cubic feet behind the third row, but that comes at a high cost and with a huge footprint.
Passengers may also feel the squeeze in the second row. These second-row seats are comfortable whether you choose the bench of captain's chairs, but the high floor limits leg room, which is 2.5 inches tighter than in the Expedition.
The third row is for emergencies only (or a passenger you feel like torturing) with just 24.8 inches of leg room, which is 3.5 inches tighter than the Armada, 8.7 inches short of the Traverse, and a whopping 16.1 inches shy of the roomy Expedition.
Final thoughts. Buyers seeking a sportier-looking crossover with plenty of premium goodies in every trim level will find that and more in the 2020 GMC Yukon. This SUV is the perfect blend of truck, crossover, and van, giving buyers a balance of everything they need.
On the downside, it's a beast to handle at 203.9 inches long and at least 5,379 pounds. Shoppers who find the Yukon's bulky, truck-like feel too much for them may appreciate a crossover like the GMC Terrain. Yes, this three-row crossover is 0.4 inches longer than the Yukon, but its car-based chassis makes it easier to manage.
It packs plenty of power from its V8 engines, but buyers who look at horsepower as a determining factor or who need to squeeze every drop of towing capacity from their vehicle may find the Expedition a better dance partner.