The 10th-generation Honda Civic arrived to lots of fanfare in 2016 thanks to a sporty, more aggressive design. The 2020 Honda Civic Hatchback and Si models look to improve upon its success with an updated look, a more accessible manual transmission, performance upgrades, and more.
The basic design of the Civic will remain the same, but Honda confirmed refreshes for the 2020 Civic Hatchback and Si models. The 2020 Honda Civic Hatchback and Si models will receive a updated bumpers with a new body-color crossbars in the fog-light housing up front and faux air vents in the rear, an updated "wing" grille, blackout-treated headlights, and updated wheel designs. The Hatchback Sport Touring gain updated LED headlights. Specific to the Si models are LED fog lights and gloss-black surround on the rear bumper.
Inside, the 2020 Civic Hatchback gains additional sound-deadening material and dash trim that differentiates each trims: geometrical pattern on the Sport trim, painted pattern on the LX and EX, and brushed-black trim on the EX-L and Sport Touring trims. The EX Hatchback also receives a new standard eight-way power driver's seat and a leather-wrapped steering wheel and shift knob. The Civic Si gains updated sport seats with red accents and red trim on the dash.
Honda hasn't announced updates on the standard coupe and sedan models, but given they received refreshes in 2019, we expect them to remain the same.
Honda also shakes up the features inside the 2020 Civic Hatchback's Sport trim, as it gets a standard 7-inch touchscreen, an eight-speaker audio system, and Apple CarPlay and Android audio. This will come in place of the super-basic 5-inch non-touchscreen four-speaker infotainment system that lacked Android Auto and Apple CarPlay.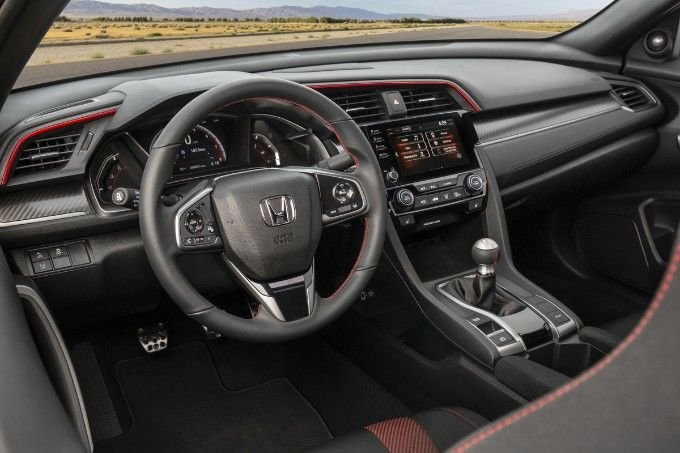 Under its hood, the Civic's lineup of engines will remain the same. The base engine on the sedan and coupe remains a 158-horsepower 2.0-liter four-cylinder, and the optional powerplant in the hatchback remains a 174-hp 1.5-liter turbocharged four-cylinder. The Civic Si continues with a 205-hp version of the 1.5-liter engine, but it gets a 6% shorter final-drive ratio that results in improved acceleration. Also new in the powertrain department is an available six-speed manual transmission in the Civic Hatchback's range-topping Sport Touring trim.
The current Honda Civic missed out on being an IIHS Top Safety Pick due to "Poor" headlight tests. Unless the updated LED headlights can improve upon that, we expect the same ratings from the 2020 Civic. The Civic also continues with its array of advanced safety equipment, including automatic emergency braking, lane-departure warning, and more.