The Honda Clarity Plug-In Hybrid arrived in 2017, and with it still so fresh and a being low-demand vehicle, it continues into 2020 mostly unchanged.
When the Clarity Plug-In Hybrid arrived in 2017, it rolled in with striking looks that demanded attention. The 2020 model rolls in with the same eye-grabbing look that includes a bold chrome grille insert that flows into the headlights, L-shaped LED accent lights, pronounced rear haunches, partial rear wheel skirts, and clear taillights. The only change to the outside is a new sound profile for the Acoustic Vehicle Alert System, which emits a low-volume sound while the Clarity Plug-In Hybrid travels at low speeds. This helps alert others on the road that this whisper-quiet plug-in hybrid is on its way.
Inside, Clarity Plug-In Hybrid takes on a much from mainstream design with a clean dash setup that includes tasteful metallic accents, a large touchscreen, a push-button transmission, and other bits you'd see on any other sedan. Only its eco-focused gauges give the Clarity Plug-In Hybrid away as an advanced green sedan. We expect this straightforward design to carry on unchanged into the 2020 Clarity Plug-In Hybrid.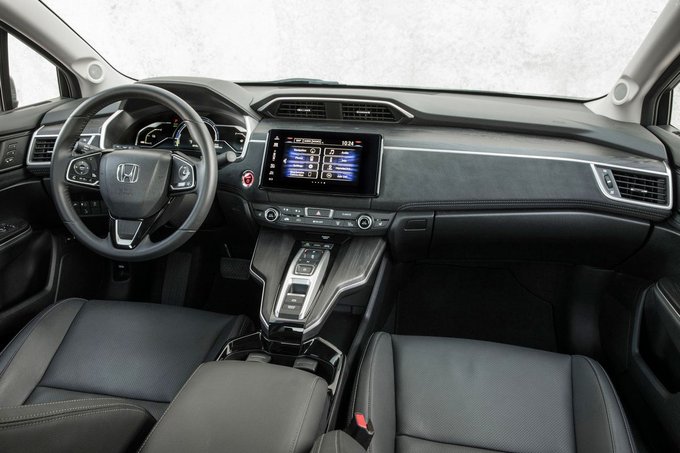 There are also no changes under the 2020 Clarity Plug-In Hybrid's hood, so it continues with a 1.4-liter four-cylinder gasoline generator and Honda's two-motor hybrid system that deliver a combined 212 horsepower. The electric motor draws 47 all-electric miles from its 17-kilowatt-hour battery. Once you deplete the battery, the gasoline generator kicks in to push its combined range to 340 miles.
The NHTSA and IIHS have not tested the Clarity Plug-In Hybrid, but Honda equips it with standard forward-collision warning, automatic emergency braking, lane-keep assist, blind-spot monitors, and adaptive cruise.