Model Preview
The Honda Insight took a break after the 2014 model year that lasted until its complete overhaul in 2019. With its redesign still so fresh, we expect the 2020 Honda Insight to be a carryover.
The huge change for the current Honda Insight is it abandoning the funky liftback look and moving to the Honda Civic platform with Honda Accord styling cues. This more traditional design language has taken hold in the hybrid world, so we expect no big visual changes on the 2020 Insight.
Inside, the clean and conservative styling continues for the Insight. Short of the economy gauge, there is little to remind you this is a high-tech electrified vehicle. Other than the push-button transmission, the Honda Insight is also free of too many buttons and interfaces to mess around with. Like the exterior, we expect the simple interior layout to carry into the 2020 Honda Insight with no changes.
Because there are no changes to its looks, we also expect no changes to the 2020 Insight's standard features. If this is true, it will come standard with 16-inch wheels, LED headlights, a 5-inch audio system display, Bluetooth, a USB port, keyless ignition, cloth upholstery, and more. Buyers looking for more features can move up to higher trims like the EX and range-topping Touring.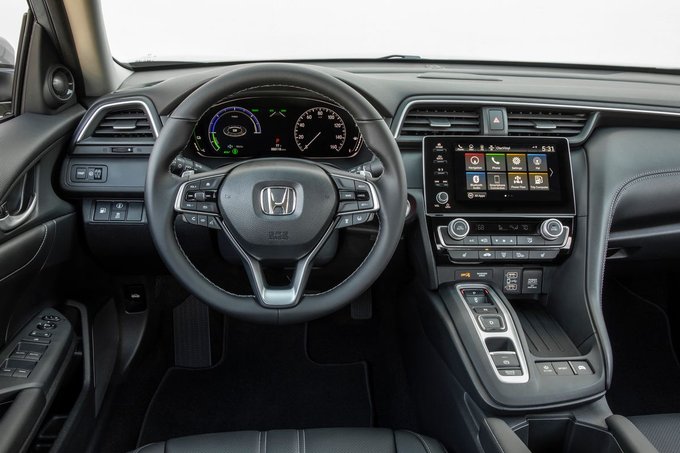 We also expect no changes to the 2020 Honda Insight's powertrain. If this proves accurate, it will come with a 107-horsepower 1.5-liter gasoline-fueled engine and a 129-hp electric motor. Together, these units push 151 hp and 197 pound-feet of torque to the front wheels without the aid of a transmission. While this powertrain won't do much in terms of performance, it delivers up to 55 miles per gallon city, 49 highway, and 52 combined.
The new-generation Honda Insight received the IIHS' top honors as a Top Safety Pick+ thanks to its top-level crash tests and standard automatic emergency braking. Other standard safety equipment on the current Insight includes lane-keep assist, traffic sign recognition, and automatic headlights. We expect the safety features and ratings to remain the same on the 2020 Insight.
Pricing and Release Date
There is no official release date for the 2020 Honda Insight, but we expect a summer 2019 debut if it follows the current model's schedule.
With no changes in the works, we expect the 2020 Honda Insight's MSRP to remain close to the 2019 model's price range of $23,725 to $28,985 (destination fees included).
The 2020 Honda Insight will compete with the Toyota Prius, Hyundai Ioniq, and Kia Niro.