Keeps a low profile. Pass a 2020 Honda Insight on the road, and you're likely to think it's just another sensible car from the brand. But it's a hybrid sedan that stands in stark contrast to the Toyota Prius, which begs for the eye's attention from almost every angle.
Not everyone who wants to save gas and be kinder to the environment wants to rub everyone's faces in it, so we applaud Honda for taking a more reasonable approach.
The Insight's conventional interior reflects its exterior, with a standard instrument cluster and infotainment center that feels modern and elegant. While there are a few flourishes like lighting around the gauges that remind you that you're in a "green" car, sitting in an Insight feels remarkable like being behind the wheel of its Honda Civic brethren.
Top Safety Pick. The Insight is a remarkably safe car, with top scores in every federal test and subtest the NHTSA threw at it to earn its five-star overall safety rating. It also earned a Top Safety Pick Plus award from the IIHS in every configuration, a rare feat due to the lack of high-end headlights in base model vehicles. This makes the Insight one of the safest cars on the road by a considerable margin.
It not only crashes well, but it's also very good at avoiding them. The Insight comes standard with an array of active safety features like automatic emergency braking and adaptive cruise control, while higher trims get lane-keeping assist.
These features don't just check boxes on a shopping list. The IIHS noted that the automatic emergency braking was "Superior" compared to most other models on the market.
Interesting performance. The Insight isn't powered like most hybrids on the road, where an electric motor supplements a gas engine. Instead, the 105-horsepower inline four-cylinder mostly acts as a generator to keep the battery charged, only providing power to the front wheels occasionally. That battery then powers a 129-horsepower electric motor that the Insight uses in most cases.
The result can be a bit puzzling sometimes to the driver, as there isn't always a connection to the sounds coming from the gas engine and the speed that the car is driving.
On our test drives, we noted that the engine could sometimes be racing at low speeds to build up power in the battery. At high speeds, the electric motor would run by itself, allowing for a quiet drive.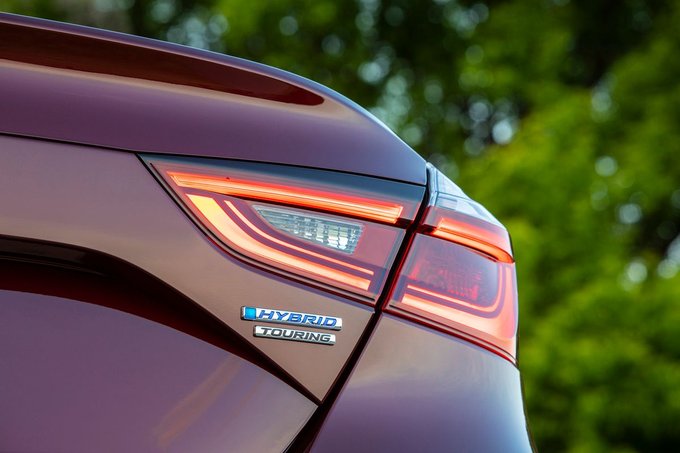 Relaxing ride. The Insight isn't a speedy car, despite the included Sport driving mode. It will do 0-60 mph in about nine seconds, which is properly slow on today's roads, and hills can occasionally be an issue. Just plan ahead to be at highway speeds by the time you hit the end of the on-ramp, and don't attempt any daft passes.
However, this car is about efficient driving above all, and it's designed to lull even aggressive drivers into relaxed compliance. The "kick-down switch" that most automatic cars have has been made particularly heavy and effectively locks away about a quarter of the available throttle to save gas.
At the same time, the suspension is very well tuned to smooth out rough roads, creating a driving environment that encourages the driver to take it down a notch.
Holistically inexpensive. The Insight starts at just $23,860, while even the top-of-the-line Touring trim is priced at less than $30,000. Combined with a fantastic fuel economy of 52 miles per gallon combined, according to the EPA, and Honda's penchant for reliability, the Insight offers an inexpensive ownership experience from top to bottom.
However, that base price can be felt at the base trim level. It's clear that in order to get to that price point, Honda spent the money on the fancy powertrain, active safety features, and LED headlights instead of interior features. This leaves commuters with just Bluetooth, a small 5-inch display, and a USB charger.
We recommend dishing out the extra $2,000 for the mid-range EX model, which comes with Apple CarPlay and Android Auto integration, keyless entry, and a larger 8-inch infotainment system with better audio for an all-around nicer commuting experience.
Final thoughts. The 2020 Honda Insight is in many ways the hybrid for the sensible person. It makes no exclamations about what it is or how it operates, instead of focusing on being a great option for those who just need to get to and from where ever they're going with minimal fuss or expense.
All in all, it's safe, efficient, comfortable, and competitively priced, making it a great choice for anyone in the market for a hybrid commuter. That said, other hybrids do bring some things to the party.
The Hyundai Ioniq Hybrid is even less expensive but, unfortunately, feels like it. The Kia Niro offers hatchback convenience with an interior that can feel cave-like at times, while the Prius has better fuel economy at 55 mpg combined – but its styling is among the most polarizing on the road. Most similar to the Insight is the new Toyota Corolla Hybrid, which also manages to provide great efficiency in an inconspicuous package.