Base models will fuel "Are we there yet?" chants. In 2018, the Honda Odyssey received a full redesign that brought in a new look that was stylish by almost evolutionary.
While its good looks are undeniable, the 2020 Honda Odyssey is a mixed bag in the features department, as its base LX trim rivals only the Jurassic-era Grand Caravan roaming the plains of Dodge dealerships in limited features. This simplicity can incite a barrage of "are we there yet?" cries from the back.
Sharp, mature design language. The Honda Odyssey's 2018 redesign brought in stunning good looks only rivaled in its class by the equally attractive Chrysler Pacifica.
In the minivan world where function always trumps form, the Honda Odyssey finds a way to blend the two with a design you won't be embarrassed to be seen in combined with a spacious cabin, plenty of interior tech options, and even an optional in-car vacuum cleaner.
While it looks great, some buyers may find it hard to differentiate the last-generation Odyssey and the all-new models with just a quick glance. This is especially true in profile view where the two generations feature the same downward shift in the third-row glass trim. We're not saying the Odyssey looks dated. Honda just could have done a tad more to separate it from the previous model.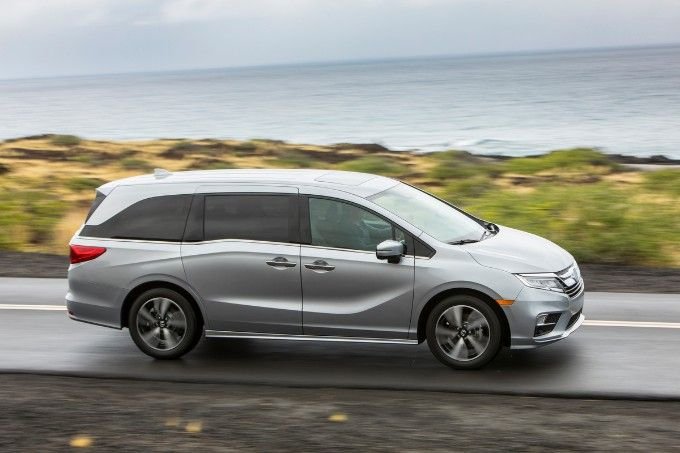 A slick driver, but passing a gas pump is a no-no. The Odyssey boasts Honda's ageless wonder, the 3.5-liter V6 engine that's touched more Honda engine bays than VIP passholders at a Fast and Furious convention have. In minivan flavor, this engine cranks out an ample 280 horsepower and pairs with a 10-speed automatic transmission that fires off shifts with confidence.
Want a significant boost in power? The Toyota Sienna's 296-hp engine is about as good as you'll get.
On top of delivering smooth acceleration, the Honda Odyssey's ride is sublime. It swallows bumps with the best of them, and you won't get too puckered if you hit a corner a bit too hot. It's not going to win any SCCA time trials anytime soon, but the Odyssey's suspension does a decent enough job preventing excessive body roll.
While driving the Odyssey can be so comfortable you may forget you're in a minivan, but you cannot risk forgetting this beast's 22-mile-per-gallon-combined appetite. It's better than the 21-mpg Sienna and Sedona, and the 20-mpg Dodge Grand Caravan, but the leader in this class, the Pacifica Hybrid, crushes it with 30 mpg combined with a depleted battery and 82 mpg-e with a charged battery.
Honda plays Scrooge with standard features. In its higher trims, the Honda Odyssey is a marvel of technology. It throws features around like they're nothing, including an in-car vacuum, an 8-inch touchscreen, a 10.2-inch rear-seat screen, Apple CarPlay, Android Auto, tri-zone climate control, navigation, and more.
Despite its generosity at the top, Honda gets Scrooge-like in the base LX trim. This model has only the basics, including a 5-inch infotainment screen, Bluetooth, two USB charging ports, 18-inch wheels, and not much else.
Despite its older looks, the Toyota Sienna is far more generous with standard Apple CarPlay, a 7-inch touchscreen, in-car wi-fi, and five USB ports. The Base Sedona matches most of the Sienna's standard goodies but adds Android Auto and lacks four of the USB ports and wi-fi.
Final thoughts. The 2020 Honda Odyssey is a great option for larger families who need all the room they can get, and a crossover or SUV just won't cut it. It has plenty of room for up to eight passengers, a silky-smooth powertrain, and plenty of tech options to satisfy kiddos and parts alike.
Despite all this goodness, the Odyssey is far from perfect, as its LX trim is simply way too stripped down, and its lack of standard automatic emergency braking baffles us.
That said, most shoppers aim for the EX and higher trims, which eliminates the two biggest issues in the Odyssey, reaffirming its status as one of the top options in the class.