Model Preview
Fresh off a redesign for 2019, we expect the 2020 Hyundai Elantra to roll into showrooms as a carryover model.
In 2019, the Hyundai Elantra gained an all-new look that included a redesigned hood, fenders, front fascia, grille, headlights, trunk, taillights, and rear fascia. It also received new wheel designs and LED headlights in the Limited and Sport trim levels. With this updated look still very fresh and unique within its segment, we expect the 2020 Elantra to hit showrooms with no notable changes.
Inside, the redesigned Elantra received an equally significant update that included a new instrument panel, gauge cluster, center stack, air vents, and more. Like the exterior, we expect the 2020 Hyundai Elantra to carry on with the same interior look.
With no visual changes in the works, we also expect no changes to the 2020 Hyundai Elantra's standard features. The list of notable standard features in the base Elantra SE is relatively short and includes power windows, power door locks, a 5-inch touchscreen, Bluetooth connectivity, and 15-inch steel wheels with hub caps.
We also expect no changes to the powertrain lineup available in the 2020 Hyundai Elantra. If this proves true, look for it to continue with a standard 2.0-liter four-cylinder engine that cranks out 147 horsepower and 132 pound-feet of torque. The Eco trim will continue with the 1.4-liter turbocharged four-cylinder that cranks out 128 hp and 156 lb-ft of torque. In the Sport trim, look for the 1.6-liter turbocharged four-cylinder engine to continue with its 201 hp and 195 lb-ft of torque.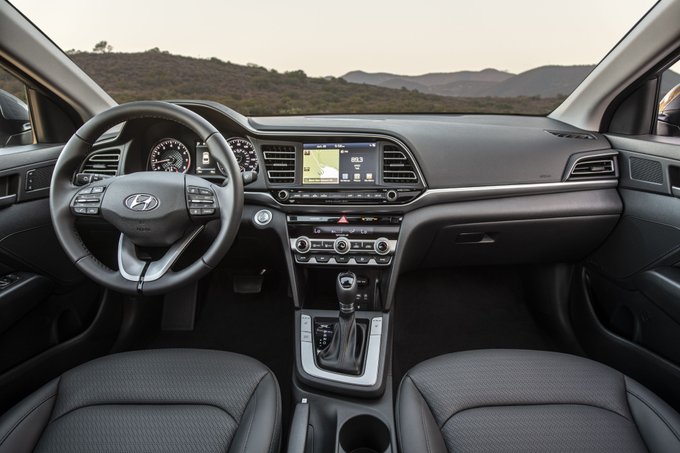 We expect the transmission options to remain the same too, including a standard six-speed manual in the SE and Sport models, an optional six-speed automatic, and a seven-speed dual-clutch unit in the Eco trim.
The 2019 Hyundai Elantra is an IIHS Top Safety Pick+, and we expect this rating to remain in the 2020 Elantra. We expect all the optional safety equipment to remain in place on the 2020 Elantra, which will include automatic emergency braking, lane-keep assist, driver-attention alert, blind-spot monitoring, and more.
Pricing & Release Date
There is no official release date for the 2020 Hyundai Elantra, so stay tuned for updates.
With no changes coming, we expect the 2020 Hyundai Elantra's pricing to remain close to the current model's MSRP range of $18,985 to $23,485 (destination fees included).
The 2020 Hyundai Elantra will compete with the Toyota Corolla, Honda Civic, and Kia Forte.
Learn about the current Elantra on sale now »
Pictured: 2019 Elantra