Model Preview
The Hyundai Ioniq Electric debuted in 2017, and a preview of the European-spec model shows it will receive its first refresh in 2020. On top of its slightly updated looks, the European preview shows the 2020 Ioniq Electric will also gain a more powerful electric motor, a longer driving range, and quicker charging.
Visually, the bulk of the 2020 Hyundai Ioniq will remain the same but will gain a new nose that will include a gray grille closeout with an updated in place of the smooth, gloss-black one on the current Ioniq Electric. It will also boast revised 16-inch alloy wheels.
Inside, the overall design of the 2020 Ioniq Electric's cabin will remain, but there will be a few small updates. It will start up front with a new available 10.25-inch touchscreen, a new HVAC control layout with touch-style buttons, mood lighting on the 7-inch touchscreen, and blue ambient lighting across the lower portion of the passenger's side dash and on the center console.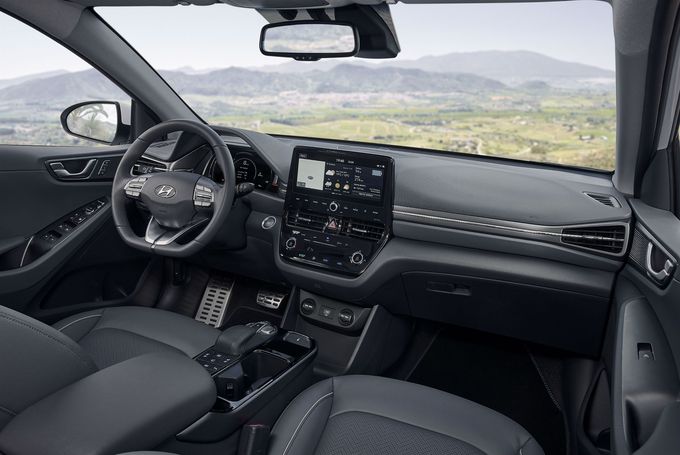 The 2020 Hyundai Ioniq Electric will get a new 38.3-kilowatt-hour battery in place of the old 28-kilowatt-hour pack. This 36% increase in stored energy will help push its range up to an estimated 26 miles to 150 miles, according to European estimates, which are typically more forgiving than American efficiency numbers. The 2020 Ioniq Electric will also get a small power bump from 120 horsepower to 134 ponies. Rounding out the powertrain changes to the 2020 Ioniq Electric will be a 7.2-kilowatt charger in place of the old 6.6-kilowatt unit and one-pedal driving.
Like the current Ioniq Electric, the 2020 model will continue with available automatic emergency braking with pedestrian detection, blind-spot monitors, lane-keep assist, adaptive cruise control, and more. We expect this to combine with rigid construction to help the 2020 Hyundai Ioniq Electric retain its IIHS Top Safety Pick rating.