When the 2020 Hyundai Sonata debuted, it rolled in with a stunning new look that's grabbed the attention of the industry. What also caught attention was the lack of a hybrid model, which had been a staple in the Sonata lineup since 2011. Recently, Hyundai unveiled the 2020 Sonata Hybrid, confirming it will boast the all-new look its gasoline-only sibling introduced. Unfortunately for those looking for a plug-in hybrid variant, Green Car Reports has confirmed that it has been dropped from the Sonata lineup for the new generation.
Like the standard Sonata, the 2020 Sonata Hybrid will hit showrooms boasting a swoopy new look that's sure to grab at least a few stares. Upfront, angular headlights are the stars of the show, while LED accent lights underline these lights then swoop down the hood to meet the chrome molding that flows down the side of the sedan and around the side windows. Around back, the Sonata Hybrid features the same open-oval-shaped LED brake light and tapered tail that give it an unmistakable look from the backside.
Exclusive to the Sonata Hybrids design include aerodynamic updates that reduce its drag to 0.24 Cd. These unique bits include a cross-hole grille with active air flaps, a redesigned rear spoiler, and aerodynamic alloy wheels. Underbody panels further enhance its ability to slice through the air.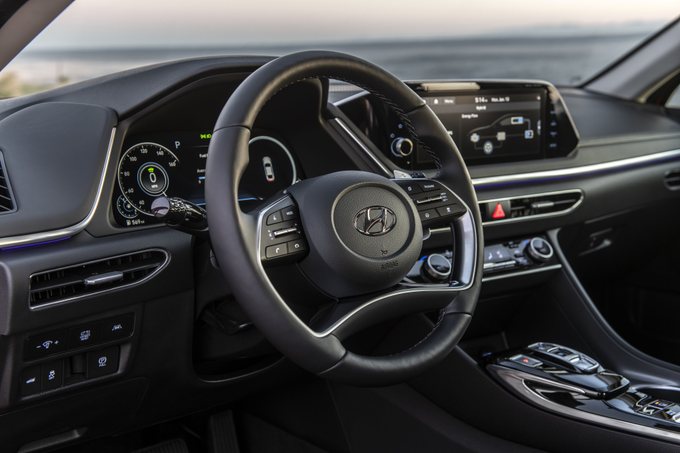 Inside, the 2020 Hyundai Sonata Hybrid will boast a look that's virtually indistinguishable next to its gasoline-only sibling. This interior includes a four-horizontal-post steering wheel, push-button transmission, horizontal dash lines, available premium materials, and top-notch tech. The latter includes an available 10.25-inch infotainment touchscreen, a 12.3-inch digital gauge cluster, a surround-view camera, navigation, dual Bluetooth connectivity, and much more.
Rounding out the interior updates is double-junction soundproof glass, upgraded carpet, more sound-deadening materials, and other noise-limiting upgrades.
Powering the 2020 Hyundai Sonata Hybrid will be a 2.0-liter four-cylinder engine with 150 horsepower and 139 pound-feet of torque paired to a 51-hp electric motor. This system delivers 192 hp combined. In the Blue trim, the Sonata Hybrid will deliver up to 50 miles per gallon city, 54 highway, and 52 combined. In the SEL and Limited trims, these numbers fall to 45 mpg city, 51 highway, and 47 combined. Helping enhance its overall efficiency is a solar roof that charges the 12-volt and hybrid batteries for about an extra 2 free miles of driving per day.
The 2020 Hyundai Sonata will boast a long list of standard safety equipment, including lane-keep assist, adaptive cruise control with stop and start, automatic emergency braking with pedestrian detection, automatic high-beam headlights, blind-spot monitoring, and rear cross-traffic alert with automatic rear braking. The standard 2020 Sonata is an IIHS Top Safety Pick, and we expect the hybrid model to carry at least the same designation.