Blending in. Amidst a crowded field of compact crossover stars, it would be easy to look past the 2020 Hyundai Tucson. Hyundai's smaller crossover goes up against crowd favorites like the Toyota RAV4, Subaru Forester, and Mazda CX-5.
The Tucson's exterior doesn't exactly help – if you had someone draw the word "crossover" from scratch, it would probably look like the Tucson. It's not unattractive, it's just expected. In a segment this competitive, it pays to stand out.
The story is the same on the inside. The Tucson's cabin is decked out in black and gray, without much to draw the eye. It's functional, but you won't find much cutting-edge design.
Dependable and safe. Instead, Hyundai lures in buyers with classic crossover virtues: safety, practicality, and dependability.
This starts with comprehensive safety, including active safety technologies, a five-star overall safety rating from the NHTSA, and a Top Safety Pick Plus award from the IIHS. Among value-priced crossovers, the Tucson is one of the safest options.
Hyundai sweetens the deal with their unusually long warranties. The Tucson is covered with a five-year/60,000-mile bumper-to-bumper warranty, which equals the powertrain warranty of most brands. Hyundai's own powertrains are covered for 10 years and 100,000 miles.
Our lone complaint in this department is that the best tech – like adaptive cruise control and a surround-view camera system – is only available on the Limited trim and above.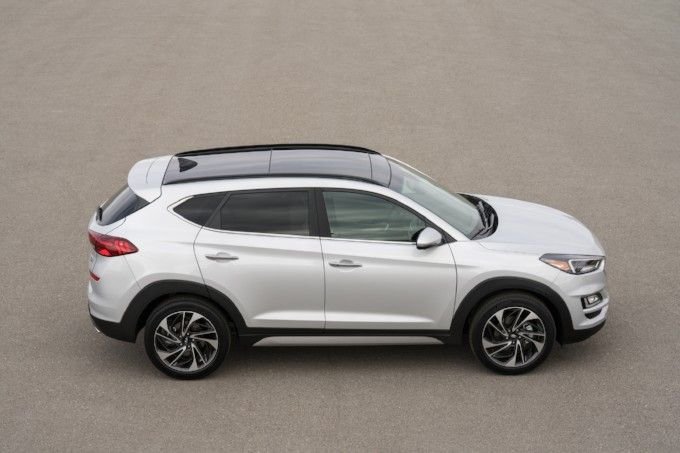 Boring but comfortable. Speaking of powertrains, the Tucson's is more of the same: adequate but unremarkable. Hyundai hasn't yet jumped aboard the turbocharged craze, sticking with a naturally-aspirated four-cylinder engine for most trims. It produces only 161 horsepower, which is less than just about every rival.
It's also not particularly efficient, managing an EPA-estimated 25 miles per gallon combined with front-wheel drive. The Subaru Forester and Mazda CX-5 both get up to 29 mpg combined.
Even the handling is just average, although a drive mode selector helps sharpen things a little. Some small crossovers manage to handle like sedans, but the Tucson isn't one of them.
What it does do well is comfort. The ride is soft and pliant, even in base trims. In our eyes, this is a virtue – crossovers were never meant to be sports cars, anyway. This is a car for road trips, not for canyon carving.
Exciting value. Where things finally get interesting for the Tucson is the price tag. The base SE trim starts at $24,445 after destination, which is substantially less than direct rivals.
That trim is minimally equipped, but even the next step up (the Tucson Value) is cheaper than the base models of most competitors. The Value trim comes with heated front seats, blind-spot monitoring, and an eight-way power driver's seat – it's a great value and our favorite trim of the line.
Upper trims remain reasonable, but getting leather upholstery requires spending up quite a bit, and adaptive cruise control is reserved for the top-spec Ultimate. Those models are nicely equipped, but we like the Tucson best closer to the middle of the lineup.
Final thoughts. The 2020 Hyundai Tucson isn't an exciting car. It won't thrill in the corners, nor will it turn many heads. But it will deliver on the fundamental promise of a crossover, delivering strong features for a reasonable price tag. For many buyers, that may be enough to get excited about.
The Tucson's competitors include some of the best cars on the market and certainly deserve close attention. Especially with good incentives, however, the Tucson remains a reasonable pick for value-minded buyers.