Once polarizing crossover is now just boring. When the Jeep Cherokee returned from its 13-year hiatus in 2014, it abandoned the boxy look it was known for and adopted a swoopy design with striking split headlights. This caused some polarization among buyers, as some loved it and others hated it. At the very least, it stood out and was a conversation starter.
In 2019, Jeep lost a game of style chicken with customers and released a revamped model with a more traditional (read: yawnfest) nose that sucked all the personality from it. Despite its "meh" appearance, the 2020 Jeep Cherokee still has tons to offer in interior space, off-road prowess, and premium amenities.
Sliding rear seats offer flexibility, and you'll need it. The Jeep Cherokee is all about flexibility, and it shows this with its sliding rear seat. With the seat all the way back, it can accommodate even the longest-legged individuals with up to 40.3 inches of legroom.
Are you hauling around short-legged folks and need extra room for cargo? Slide those rear seats forward and unlock more cargo space. While this is great, you may find yourself sliding those seats forward more often than not, as with the seats back, the Cherokee only offer 24.6 cubic feet of cargo room.
This is almost a laughable amount of cargo room when compared to the Honda CR-V's 39.2 cubic feet, the Toyota RAV4's 37.6, and the Subaru Forester's 34.7. Even with the rear seat slid forward, the Cherokee only offers 29.1 cubic feet.
Folding the rear seat doesn't shift the balance either, as the Cherokee offers just 54.9 cubic feet in this format. With their seats folded, the CR-V and Forester deliver 75.8 and 76.1 cubic feet, respectively.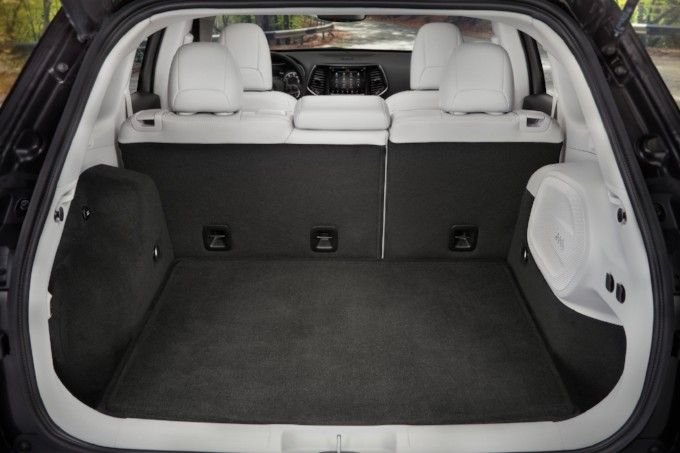 Cherokee is two for three in the engine department. The Jeep Cherokee's two optional engines deliver the goods where you need it and offer some flexibility between power and efficiency.
The 3.6-liter V6 engine delivers 270 horsepower and 239 pound-feet of torque for smooth acceleration on top of a 4,500-pound towing capacity, and it does this without a turbocharger.
The optional 2.0-liter turbocharged engine delivers 270 hp and 295 lb-ft of torque. This engine trades 500 pounds in towing capacity for an extra three miles per gallon city, two mpg highway, and three combined relative to the V6 engine, compared to the EPA.
The Cherokee does, however, strike out with its base 2.4-liter engine that delivers a wheezy 180 hp and 171 lb-ft of torque and a 2,000-pound towing capacity.
While its power isn't too far off from its competitors, the 2.4-liter-equipped Cherokee comes up way short on fuel economy. The CR-V and Mazda CX-5 get three more mpg combined compared to the Cherokee, while the Forester and its standard all-wheel drive earns four mpg more.
The Cherokee offers a unique twist most competitors lack in the off-road-ready Trailhawk model, and this is no aesthetic package either. It has legit off-road prowess with a lifted suspension, knobby tires, angle-enhancing bumpers, skid plates, special four-wheel drive, and more. The problem is, the Trailhawk pushes the $45,000 mark, making it a pricey machine for off-roading.
Feature-packed cabin, but safety takes a hit. Arguably, the Jeep Cherokee's interior is a bit plain, but it makes up for this with a great assortment of standard and optional features.
As standard, the Cherokee features a 7-inch touchscreen, Apple CarPlay, and Android Auto. The CR-V and CX-5 make buyers step into their second-tier trims for these features. The RAV4 pulls off the same size screen and standard Apple CarPlay, but it doesn't offer Android Auto.
Moving into the higher trims, the Cherokee gets downright luxurious with its available Nappa leather seating, heated and ventilated seats, 8.4-inch touchscreen, and more.
A ride in the Cherokee is plenty safe with its four-star overall safety rating from the NHTSA (five stars when equipped with AWD), but it falls short in safety tech. Unlike its rivals, which offer automatic emergency braking, lane departure warning, automatic high-beam headlights, and more standard, the Cherokee offers them as options.
Final thoughts. The 2020 Jeep Cherokee is a mixed bag, for sure. On the one hand, it is a snoozer to look at and misses the mark in cargo hauling. On the other hand, it has great engine options and an amazing off-road variant.
This makes its target market pretty narrow, and they include folks who plan to tow heavy or travel off the beaten path at least a few times a month and will benefit from the Cherokee's Trailhawk, turbocharged, and V6 models.
Otherwise, the traditional family will likely prefer the roomier cabin in the CR-V or CX-5, or their range of standard safety goodies.