Model Preview
The Jeep Compass went through a full redesign in 2017, ushering in better styling and a more comfortable ride than before. Not much has changed since that redesign, save for some feature shuffling in 2019, and we expect it to remain on the carryover path in 2020.
The current Jeep Compass boasts great looks that are just a few years old, so we expect this outward appearance to remain in the 2020 Compass. What makes the Compass such a looker? It's the fact its styling trickles down from a perennial leader in SUV styling, the Jeep Grand Cherokee.
Inside, we expect the 2020 Jeep Compass to retain its simple but stylish design language that includes basic geometrical shapes and minimal buttons cluttering things up. Behind its simple design is some tasteful tech, including a standard 7-inch infotainment system, keyless ignition, Bluetooth connectivity, two USB ports, and Apple CarPlay and Android Auto, which we expect to remain as standard features in the 2020 Compass.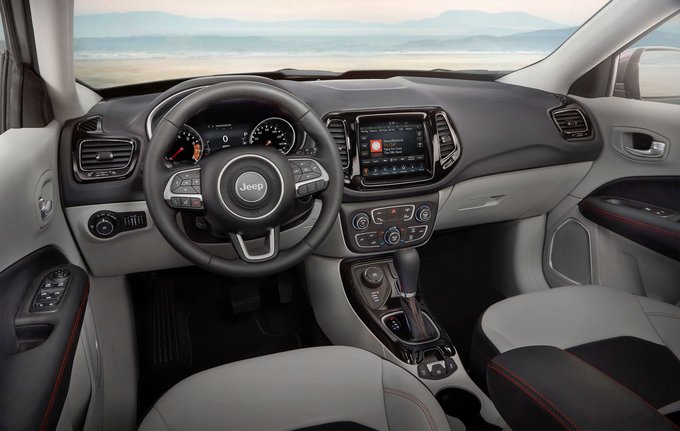 Under the current Compass' hood is a 2.4-liter four-cylinder engine that produces 180 horsepower and 175 pound-feet of torque. This engine pairs with a standard six-speed manual transmission, but there is an available six-speed or nine-speed automatic available. While this powertrain isn't anything great, it's sufficient, and we expect it to remain the same in the 2020 Jeep Compass. Front wheel drive will remain the standard format, but you can opt for all-wheel drive, which will also net you the available nine-speed automatic transmission.
The current Jeep Compass is a master of crash tests as it received "Good" ratings in all IIHS bang-up tests. It also received a "Superior" rating in front crash prevention thanks to its available automatic emergency braking, which is part of the $795 Advanced Safety Group package. So, why isn't it a Top Safety Pick? Because it received just a "Marginal" score in the headlight test. We expect the safety ratings and features to remain the same in the 2020 Jeep Compass.