Capable off-roader. If there's one thing that separates Jeep from other automakers, it's how capable its models are when it comes to off-roading. The 2020 Jeep Compass may be the baby Jeep, but it's available in an off-road-friendly Trailhawk trim.
The Trailhawk is only available with all-wheel drive and comes with raised suspension, a crawl mode for difficult terrain, and underbody skid plates. All of these goodies make it capable of tackling rugged terrain.
Grown-up styling. The compact Compass shares a lot of its exterior design with Jeep's larger Cherokee and Grand Cherokee, giving it an upscale look in a segment that's not known for it. Styling ranges from conservative and upscale to rugged, depending on the trim.
The Compass' interior follows Jeep's trend of being easy to use and having a fair share of high-end materials on higher trims. Some optional color schemes also add a little more style to the interior.
While the front seats are comfortable, the rear bench seat isn't quite big enough for three adults. Hip room in the back measures in at just 49.2 inches, which makes things tight.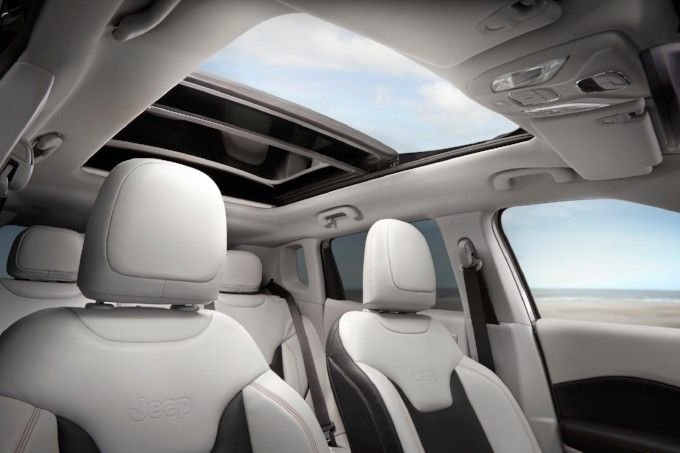 Subpar safety ratings and features. The Compass carries a four-star overall safety rating from the NHTSA. However, take a look at the rollover test and the front-wheel-drive model received just a three-star rating.
The Compass also comes with no standard active safety features, in a day and age where more and more automakers are. Things like forward collision warning, blind-spot monitoring, and automatic emergency braking are available in optional packages.
Uninspiring engine, poor transmission. Every Compass comes with a 2.4-liter four-cylinder that makes 180 horsepower. The engine isn't great, but it's enough to get the job done.
It's the nine-speed automatic transmission that we have a gripe with. It struggles to shift and can be easily confused by throttle inputs. We recommend going with the manual gearbox, but finding one at a dealer lot may be a difficult task.
Final thoughts. Ever driven a Jeep Cherokee or Grand Cherokee and thought that it was too big? That's where the 2020 Jeep Compass fits in. Small, upscale, affordable, and off-road friendly in the Trailhawk trim, the Compass is a small Jeep that's, well, still a Jeep.
While we like the high-end design and the off-road prowess of the Trailhawk, there are a few things we're looking for from future models: more standard safety features, a smoother automatic transmission, some more space for passengers in the rear seats, and more power.
If off-roading is your thing and you're going to go with the Trailhawk, there isn't a lot of competition. For the rest of the lineup, competitors are better in key areas.
Against the Honda CR-V, the Compass loses when it comes to handling, fuel economy, performance, and space. Compared to the Toyota RAV4, the Compass falls behind when it comes to power, fuel economy, interior space, and safety.