An enduring model. Ten years is a long time to stay with one model, but that's exactly what Jeep has done with its fourth-generation Grand Cherokee. This mid-size SUV has managed to stay popular thanks to several refreshes along the way, including new variants such as the Trailhawk and Trackhawk.
That said, the 2020 Jeep Grand Cherokee shows its age inside as the cabin design hasn't changed much through the years. What the interior has going for it is leather, wood, and metal on upper trim models, which enables the Grand Cherokee to punch well above its mainstream status.
Multiple powertrain choices. Competing models typically offer one or two powertrain choices, but the Jeep Grand Cherokee has four. The standard V6 engine with 295 horsepower is adequate for most needs and also boasts a 6,200-pound towing capacity, easily besting the Nissan Murano and Chevrolet Blazer.
Where the fun begins is with this model's trio of V8 engines. The 5.7-liter produces 360 hp and 390 pound-feet of torque, which immediately puts it ahead of the competition.
But Jeep doesn't stop there, as it imbues its SRT model with a road-gripping 6.4-liter V8 engine generating 475 hp and 470 lb-ft of torque. Jeep finishes things off with a supercharged 6.2-liter V8 engine, which throws down 707 hp and 645 lb-ft of torque.
This engine puts the Jeep in heady performance company, battling the Porsche Cayenne Turbo, Mercedes-Benz AMG GLE 63, BMW X5 M, and Range Rover SVR – but at a lower cost.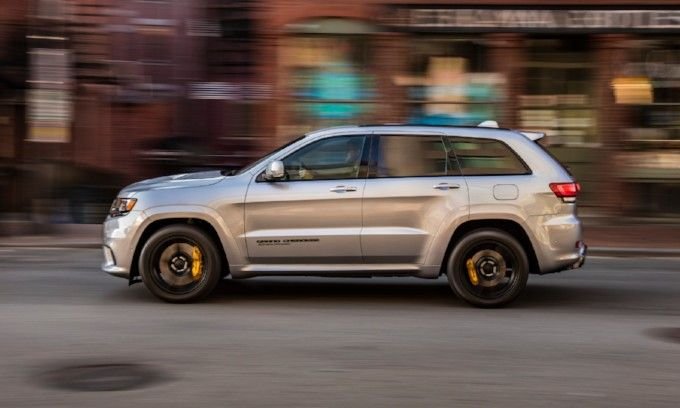 Subpar fuel economy. Jeep no longer offers a diesel option and that's a shame. It supplied decent fuel economy, enabling the Jeep to return a respectable 24 miles per gallon combined, according to the EPA. This is three mpg higher than the standard gas engine.
The V8 engines are thirsty and earn 17, 15, and 13 mpg, respectively. A loophole in the EPA's gas guzzler tax ruling allows the Grand Cherokee to escape this penalty, something the slightly more efficient Dodge Hellcats do not.
Robust off-road capabilities. No other mainstream mid-size SUV matches the Grand Cherokee in off-road prowess. Even the standard four-wheel-drive model has trail-ready tech and ample approach, breakover, and departure chops.
The Trailhawk simply raises the Grand Cherokee's off-road credibility further. Here, Jeep adds grippier tires, an off-road suspension system, and an all-wheel-drive system designed to send nearly 100% of its power to the rear wheels and an electronic limited-slip differential.
Jeep offers four 4WD systems, with all but the base arrangement offering low-range gearing. Transfer cases, hill descent control, and terrain management aid the Grand Cherokee in its off-road pursuits.
Final thoughts. Ten years is a long time for any model, but the 2020 Jeep Grand Cherokee manages to stay relevant even as competitors roll out new or updated models. Not one has a V8 engine, nor can they match the Grand Cherokee in pulling power.
We think it's ridiculous that a fully loaded Trackhawk tops $100,000. But if you're shopping this model, you're not likely all that concerned. On the other hand, a well-equipped Overland will set you back about half as much.