Model Preview
The Jeep Wrangler went through a significant redesign in 2018, giving it a new but familiar look, new weight-saving construction, and a new turbocharged engine option. Since its debut, it's seen only minor changes but has remained mostly a carryover model. We expect the 2020 Jeep Wrangler to roll in as a carryover model too.
When it went through its redesign, the Jeep Wrangler didn't go through a dramatic modification that left it unrecognizable. In fact, its base appearance only received minor tweaks, including a wider stance, lower beltline, larger windows, a lightly restyled grille, CJ-inspired headlights and taillights, halo-style daytime running lights, an aerodynamically optimized windshield, and more. What really made a difference were the aluminum doors that helped save weight. We expect this to all remain the same in the 2020 Jeep Wrangler.
In 2020 There will be a new wrinkle added to the Wrangler, but it won't officially be a part of the Wrangler lineup. This is the Wrangler-based 2020 Jeep Gladiator pickup. This midsize truck will be all Wrangler from the front doors forward, but it will feature a midsize truck bed on the rear and deliver class-leading towing and payload.
Inside, the new-generation Jeep Wrangler went through a far more comprehensive redesign that harked back to Wranglers of the past. This redesign included a heritage-inspired center stack with minimal clutter, a more upright dash with smaller round air vents, a three-spoke steering wheel with a split lower spoke, more traditional round gauges, and more. We expect this look to remain the same in the 2020 Wrangler.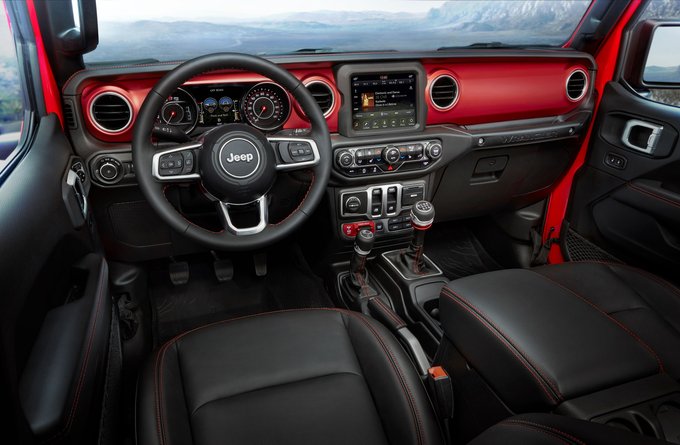 Since there are no visual changes, we also expect no changes to the 2020 Jeep Wrangler's standard equipment. If this is the case, we expect the base Sport trim to include standard cloth seating, manual windows, steering-wheel-mounted controls, a 5-inch touchscreen, an eight-speaker audio system, the Uconnect 3 infotainment system, 17-inch black styled-steel wheels, and more. There will be tons of options, including power windows, navigation, Apple CarPlay and Android auto, but they come in higher trim levels.
Powering the 2020 Jeep Wrangler, we expect the same standard 3.6-liter V6 engine with 285 horsepower and 260 pound-feet of torque. Optionally, buyers will be able to add a 2.0-liter turbocharged four-cylinder engine with a mild-hybrid setup that will produce 270 hp and 295 lb-ft of torque. We expect these engines to pair with the same standard six-speed manual transmission or an optional eight-speed automatic.
The IIHS and NHTSA have yet to test the 2019 Jeep Wrangler for safety, but it traditionally struggles, especially rollover tests. What we know is the 2019 Wrangler has plenty of optional advanced safety equipment, including blind-spot monitors, parking sensors, forward-collision warnings, adaptive cruise control, and automatic emergency braking. The only standard advanced safety item is a rearview camera. We expect this to carry into the 2020 Wrangler unchanged.
Pricing & Release Date
There is no official release date for the 2020 Jeep Wrangler, but based on previous releases, we expect a fall 2019 debut.
With no changes coming we expect only minor tweaks in price relative to the current Wrangler, which ranges from $33,040 to $52,795 (destination fees included).
There are not many off-road-focused SUVs on the market these days, but the 2020 Jeep Wrangler will compete with the Toyota 4Runner, Jeep Cherokee, and the Land Rover Discovery Sport.
Learn more about the current Wrangler on sale now »
Pictured: 2019 Wrangler