Model Preview
The Jeep Wrangler Unlimited showed off a brand-new, albeit familiar, look and new powertrain options thanks to a redesign in 2018. In 2019, the Wrangler Unlimited remained mostly unchanged, save for a few mild tweaks to its safety equipment and color options. With this model still fresh, we expect the 2020 Jeep Wrangler Unlimited to be a carryover model.
Visually, we expect the 2020 Jeep Wrangler Unlimited to remain unchanged. It will be essentially the 2020 Jeep Wrangler with a 21.6-inch-longer wheelbase and body, and two rear doors. Otherwise, the Jeep Wrangler Unlimited is virtually identical to the new-generation Jeep Wrangler, which features, new headlight and taillights that hark back to the old CJ days, a new grille, an easier fold-down windshield, and aluminum doors. We expect all these key features to carry on unchanged in the 2020 Jeep Wrangler Unlimited.
The one new wrinkle to the Wrangler Unlimited lineup will not officially be a Wrangler model at all. That's the 2020 Jeep Gladiator midsize pickup, which the automaker will base on the Wrangler platform. The 2020 Gladiator will feature the SUV's styling from the rear doors forward, but it will feature a truck bed in the rear. This will give it a great combination of the Wrangler's legendary off-road abilities and class-leading towing and payload capacities.
Inside, the new-generation Jeep Wrangler Unlimited gained a simpler dashboard setup with small circular air vents, a heritage-inspired center stack, a three-spoke steering wheel with a split lower spoke, and classic-looking circular instruments. Despite being all-new, the new-generation Wrangler rolled in with simple interior features, including a Uconnect 3 infotainment system with a 5-inch touchscreen, an eight-speaker audio system, manual windows, and cloth seating. Fortunately, the higher trims add more creature comforts like larger touchscreens, Apple CarPlay, Android Auto, navigation, and more. We expect all these interior details to carry directly into the 2020 Wrangler Unlimited.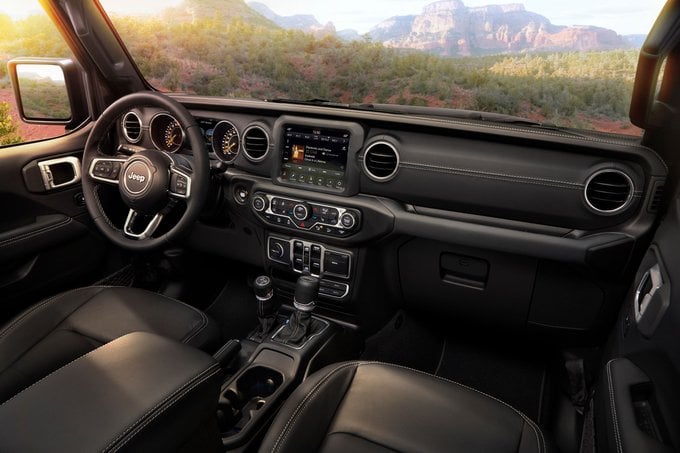 Under its hood, we expect the 2020 Jeep Wrangler to continue with the same engine lineup. This will include a standard 3.6-liter V6 engine that cranks out 285 horsepower and 260 pound-feet of torque. We also expect the optional 2.0-liter turbocharged engine with 270 hp and 295 lb-ft of torque to remain. Both engines will pair with a standard six-speed manual transmission or an optional eight-speed automatic. Four-wheel drive will remain compulsory.
Safety used to take a back seat in the Wrangler, but the new-generation model picked up a few optional advanced safety goodies, including blind-spot monitors, parking sensors, forward-collision warnings, adaptive cruise control, and automatic emergency braking. Of course, a rearview camera is standard. Though it has all this equipment, neither the IIHS nor the NHTSA has tested the current Wrangler Unlimited for safety, but high-riding SUVs like this rarely perform well, especially in rollover tests. We expect all the safety items to carry into the 2020 Wrangler Unlimited unchanged.