Compromise. The four-door Jeep Wrangler Unlimited underwent a full redesign in 2018 that brought an updated look and a more refined cabin. The Wrangler Unlimited's iconic styling is still as recognizable as ever, with all of the charm that makes it perennially popular.
However, the 2020 Jeep Wrangler Unlimited is an off-road-first rig. It can haul the whole family in a pinch, but it isn't the most refined vehicle on pavement.
Finally, a diesel engine. Jeep Wrangler Unlimited fans have clamored for years to get a torque-heavy diesel engine, but were left out in the cold. In 2020, the Jeep finally delivers with a 3.0-liter EcoDiesel V6 engine that cranks out 260 horsepower and a mighty 442 pound-feet of torque. While there are no official EPA tests yet, Jeep promises this will be the most fuel-efficient Wrangler Unlimited ever.
For those not in the market for an oil burner, there are two capable gasoline options. They start with a 3.6-liter V6 engine that pounds out 285 hp and 260 lb-ft of torque and pairs to either a standard six-speed manual transmission or an eight-speed automatic.
Optionally, buyers can go with the 2.0-liter turbocharged four-cylinder that delivers 270 hp and 295 lb-ft of torque. While the extra torque is nice for off-roaders, its standard eight-speed automatic transmission may be a deal breaker for those seeking the control of a manual.
Adding to the already robust engine lineup are mild-hybrid versions of the two gasoline engines in the Sahara trim.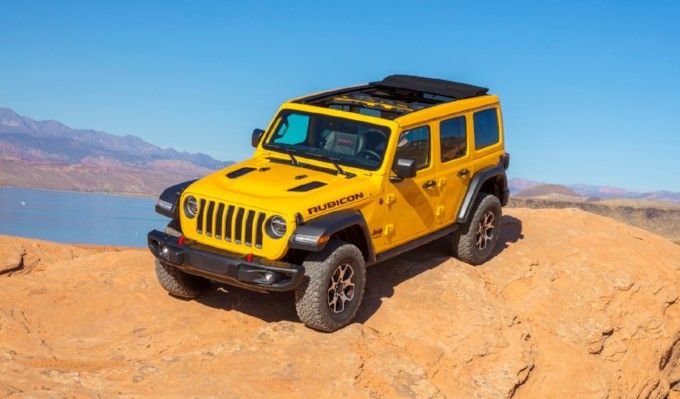 Better check your priorities. The Jeep Wrangler Unlimited has a huge draw with its off-road prowess. Even its base Sport trim is plenty capable off the beaten path. That said, some buyers may need to check their priorities at the showroom door.
First, while the Wrangler Unlimited may have all the off-road prowess you'll ever want, its on-road manners are a different story. While they've improved over the years, the Wrangler is still a rougher ride than virtually any other crossover or SUV. Buyers who plan to do just a little off-roading and more commuting to work may find its showroom neighbor, the Jeep Grand Cherokee Trailhawk, a better fit.
Also, despite it being a four-door SUV, the rear seats have just 38.3 inches of legroom. This is massive compared to the two-door Wrangler, but it comes up short compared to the Grand Cherokee's 38.6 inches, the Ford Explorer's 39 inches, and the GMC Acadia's 39.7 inches.
Iconic looks improved, but still imperfect. Despite a recent redesign, the Jeep Wrangler Unlimited is still recognizable from a mile away. This has also long been the case with its simple interior, which has been a drawback to many buyers.
The 2020 Wrangler Unlimited's cabin looks far better than it ever has, especially in its higher trim levels, which gain an 8.4-inch touchscreen and more premium materials.
In its base model, though, the Wrangler Unlimited remains very simple compared to its competitors with its standard urethane steering wheel, tiny 5-inch touchscreen, and other basics.
Buyers who want more balance will find this with the Grand Cherokee's standard 7-inch touchscreen and classier-looking cabin or the very well-equipped Land Rover Discovery.
Final thoughts. The 2020 Jeep Wrangler Unlimited is what it's always been: a great option for families who regularly take their SUV off-roading.
Can the Wrangler Unlimited be a commuter vehicle? Of course, especially with the thriftier diesel option coming. That said, there are simply too many compromises to be made for it to make sense as an on-road-only daily driver.
Buyers seeking a vehicle for the family that can tackle occasional off-roading may find a better balance in the Grand Cherokee Trailhawk or the Land Rover Discovery Sport. The Wrangler Unlimited is simply too pricey and too rugged to make sense.