The original. While the Jeep Wrangler is now most popularly purchased in four-door Wrangler Unlimited form, the two-door Wrangler thankfully remains for 2020. In this configuration, the Wrangler could be seen as the off-road counterpart to a sports car; they may not overlap in aim or capability, but they both sacrifice function for fun.
That said, the 2020 Jeep Wrangler is easier to live with. Updates to the suspension, aerodynamics, and steering have made it better to drive at highway speeds, but don't get the idea that the Wrangler is basically a Lexus. Jeep has only made it no longer uncomfortable; it could be a lot better.
Off-road prowess. The Jeep Wrangler has been known as the gold standard for off-roading for decades (in the United States, at least), with the latest model continuing the trend. No other vehicle for sale in the U.S. market can do everything and go anywhere a Wrangler can.
The reason for this unparalleled ability is the equipment included. Unlike almost every other SUV on the market these days, the Wrangler has solid axles and a ladder frame for extra durability, rigidity, and articulation.
Top of the line Rubicon models come with the motherload of off-road kits, including beefy all-terrain tires, a low-speed transfer case, and more to make it unquestionably the most off-road capable vehicle available straight from the factory.
While those characteristics are common to both Wrangler configurations, the two-door Wrangler in particular is even more capable than the four-door. Much of this is due to its shorter wheelbase, which makes it more agile in tight spots and allows it to clear sharper obstacles. In terms of application, the two-door model would be better for rock-crawling, while the four-door would be better at overland adventuring.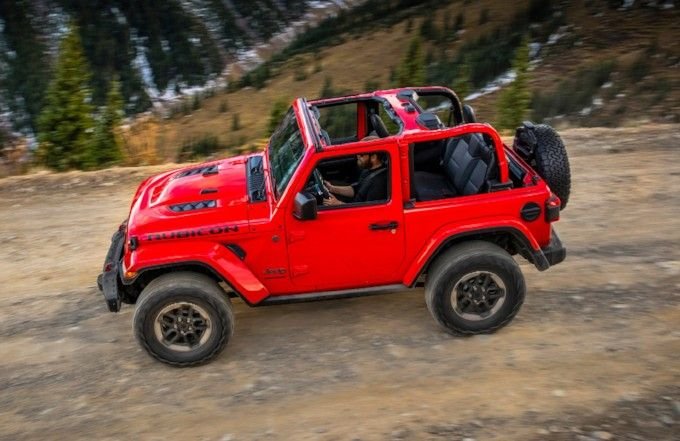 Bizarrely expensive. While the latest version of the Wrangler is much improved over the previous generation, there isn't much that can be considered cutting edge about it. Most of the Wrangler's features were developed decades ago, including the parts that make it so good at off-roading.
Therefore, it's a bit of a mystery then as to why the Wrangler is so expensive. The base model's near-$30,000 starting price is competitive with entry-level luxury cars, yet it doesn't include basic features like air conditioning or power windows. Based on features alone, the Wrangler would be priced closer to $20,000 in a sane world.
But supply and demand is a funny thing isn't it? The Wrangler is largely that expensive because people are still plenty willing to buy it, and because it simply doesn't have any competitors. The rest of the automotive world left the Wrangler behind decades ago, but demand clearly remains for an old-school off-roader with loads of charm.
Comfortable … enough. While improvements have been made, the two-door Wrangler still isn't a place that we'd want to spend a huge amount of time in. While better for off-roading, the shorter wheelbase of the two-door makes it feel much more skittish on the road than the four-door model, meaning you'll be putting more effort into keeping it going where you want it to.
Interior space is also reduced with the Wrangler two-door. While it does have a rear seat, it's cramped and difficult to get to, and the total cargo room isn't something to brag about either. But staying true to the sports car analogy, the two-door Wrangler is more of a toy than a family vehicle, so sacrifices are expected.
Old-school safety. The Wrangler is somewhat disconcerting when it comes to safety. The two-door model doesn't get crash tested, while the four-door only scored four stars in NHTSA frontal crash tests and three stars in rollover tests.
At the same time, the Wrangler comes with no standard driver assistance features at any trim, which is an increasing oddity on the market. However, some features like automatic emergency braking, adaptive cruise control, and blind-spot monitoring are available, but be prepared to spend a bit extra.
Final thoughts. The 2020 Jeep Wrangler two-door is quite possibly the most old-school vehicle currently available, for better or for worse. While it has had some improvements, it remains the off-road adventure vehicle that so many fell in love with decades ago. The charm is undeniable, but there are some things that give us pause, like the expensive price tag and questionable safety.
Ultimately, the Wrangler two-door is really the last of its kind on the market. Nothing can be seen as a true alternative, but more family-oriented buyers should look at the four-door Jeep Wrangler Unlimited models.
If you'd like to go off-road a bit but want something more livable, consider a Land Rover Discovery Sport, which offers off-road capabilities and luxury at a price tag comparable to a Wrangler Rubicon.