Not an econobox. Manufacturers got the message that inexpensive cars don't have to look cheap. The 2020 Kia Forte is a sterling example of just how well a premium look plays out. At first glance, the Forte features some of the styling elements of the gorgeous Kia Stinger, including a sleek set-back windshield and handsome rear design.
The tiger-nose grille, common to all Kia models, gives the Forte a sporty look. The flared headlights, big lower grille opening, and corner cutouts add to that mystique. The new GT trim provides an extra measure of sportiness.
Inside, the cabin has a cut-above feel thanks to much attention to detail. The round air vents with silver matte trim on some models looks expensive. We just wish Kia would employ more color instead of the typical black and gray interior.
Performance is a mixed bag. The Kia Forte is a tale of two engines. On the one hand, the base 2.0-liter four-cylinder that generates 147 horsepower can be lackluster. However, it places a big emphasis on efficiency and earns an EPA-estimated 35 miles per gallon combined.
The better choice from a performance standpoint is the 1.6-liter turbocharged four-cylinder with 201 hp that only the GT trim gets. The rear suspension system and dual exhaust port system are two other benefits, while it earns a solid 30 mpg combined.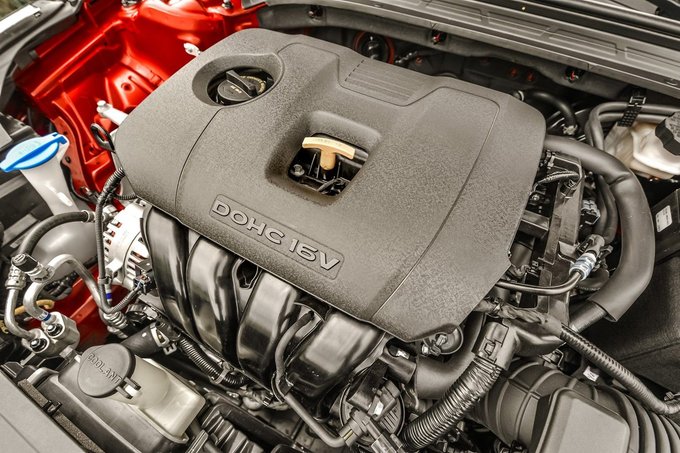 Generous safety and tech features. Kia has long emphasized its value proposition, and the Forte holds that banner high. It's priced from under $19,000, which makes it a strong entry among compact sedans.
On the safety front, Kia equips the Forte with standard automatic emergency braking, lane departure warning, and lane keeping assist. You'll also find blind-spot monitoring and rear cross-traffic alert on the EX and GT. Some of Kia's competitors aren't as generous safety-wise.
As for tech features, the Forte comes with an 8-inch touchscreen, multiple USB ports, Bluetooth, and both Android Auto and Apple CarPlay smartphone compatibility. The four-speaker audio system isn't anything worth noting, but we don't recommend the base model anyway. You'll find six-speaker systems on most trims along with satellite radio.
Spacious interior. The roomy interior is one of the Forte's strengths, as it makes this sedan a midsize model based on one government classification. You'll find ample head, shoulder, hip, and legroom in the first row. The second row loses a few inches here and there, but you can fit three in a pinch.
Trunk space is simply voluminous for this segment, measuring 15.3 cubic feet. In some models, the hands-free operation is included, a feature common to the Kia Optima and not available in many premium models. Consider that most models come with a 60/40-split fold-down rear seat and the storage possibilities improve considerably.
Final thoughts. The market may have shifted from cars to crossovers, but Kia hasn't abandoned the segment, nor are they likely to do so. That's good news for consumers wanting value.
Along with the Hyundai Accent, the 2020 Kia Forte offers an excellent one-two punch for entry-level new car shoppers. With shrinking demand, incentives remain strong in pricing, leasing, and financing. Consider funneling some of your savings to bump up a trim level, especially if long-term ownership is part of your plan.