Model Preview
The Kia Stinger hit showrooms in 2018 and rolled into 2019 with changes only to its list of standard features. With its looks still fresh and desirable, we expect the 2020 Kia Stinger to hit showrooms as a carryover model.
We expect the 2020 Kia Stinger to arrive with no notable exterior changes. The grand tourer look it features is still fresh and needs no updates to continue attracting eyeballs and buyers. Inside, the current Stinger is plenty modern and filled with useful tech, so we expect nothing new in the 2020 Stinger's cabin other than some potential under-the-skin updates, like mild infotainment system tweaks.
With no changes on the horizon, we also expect the 2020 Kia Stinger to debut with the same long list of standard features. If this proves true, it will come standard with leather upholstery, power seats, dual-zone automatic climate control, 18-inch wheels, a 7-inch touchscreen, Apple CarPlay, Android Auto, and much more.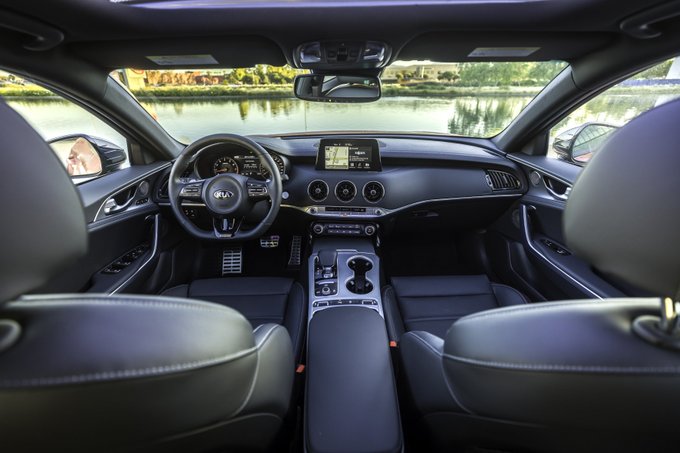 Its current powertrain options are more than enough, so we expect nothing new under the hood of the 2020 Kia Stinger. If this is the case, the 2020 Stinger will come standard with a 2.0-liter turbocharged four-cylinder engine that pumps out 255 horsepower and 260 pound-feet of torque. The optional twin-turbocharged 3.3-liter V6 will pump out 365 hp and 376 lb-ft of torque, which will be enough to launch this four-door rig to 60 mph in just 4.7 seconds. Both engines will pair with an eight-speed automatic transmission, standard rear-wheel drive, and optional all-wheel drive.
There are no official safety ratings on the Kia Stinger, but it does feature plenty of advanced safety tech to keep everyone safe. Standard safety goodies include parking sensors, blind-spot warning, rear cross-traffic alert, a rearview camera, and more. The most important of the features, automatic emergency braking, is not available in the base or GT trim, but it is standard in every other trim.
Pricing & Release Date
There is no official release date for the 2020 Kia Stinger, but we expect to see its production kick off in summer 2019.
Since there are no changes expected, we anticipate its pricing to remain similar to the current model's MSRP range of $33,985 to $53,395 (destination fees included).
The 2020 Kia Stinger will compete with the BMW 3-Series and Audi A5 Sportback.
Learn about the current Stinger on sale now »
Pictured: 2019 Stinger