Model Preview
Land Rover thought inside the box for most of its early years with the blocky Series I, II, and III models remaining mostly unchanged for 36 model years. These later gave way to the equally boxy Land Rover 90, 110, and 127 Defender models that later morphed into the striking box-on-wheels Defender that remained relatively unchanged from 1983 through 2016.
The Defender will return to Land Rover's lineup in 2020, and the British SUV manufacturer surprised its American fans by announcing this rugged-looking SUV will be available in the U.S., making it the first time a brand-new Defender has been on U.S. soil since 1997. Here's what we expect from the upcoming 2020 Land Rover Defender.
Land Rover has remained mostly mum on the 2020 Defender's looks, but it released a few camouflaged teaser images that give us a good idea of what to expect. One thing is clear: The 2020 Land Rover Defender will reach into its old bag of tricks with a boxy body, high ride height, and exposed rear spare tire. It's also clear this will be a shorter-wheelbase SUV, giving it some added off-road chops.
There are few details about the 2020 Defender's interior, but we don't expect it to retain the utilitarian cabin of its predecessor. We expect the 2020 Defender to be an all-in luxury vehicle with premium materials, upscale equipment, and modern tech. In fact, Land Rover confirmed it will boast the latest in connectivity.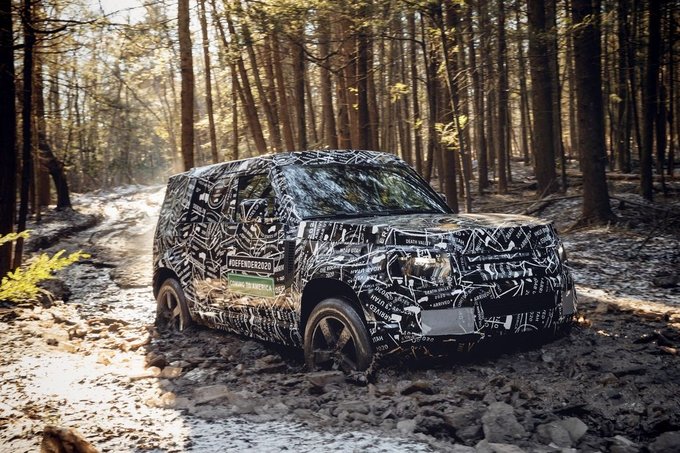 Under its hood, things get muddier — pun totally intended — as Land Rover gives us no clue on what will power the 2020 Defender. What we know is Land Rover has a range of four- and six-cylinder diesel engine that will cater to the off-road crowd with their high torque ratings. The 2020 Land Rover Defender will also likely use Land Rover's supercharged V6 and V8 engines to help it better match its main competitor, the Mercedes G-Class. Some outlier engines that could make their way under the Defender's hood include a 245-horsepower turbocharged 2.0-liter four-cylinder and a 398-hp plug-in-hybrid four-cylinder.
Being an homage to Land Rover's roots, we expect the 2020 Defender to feature all the best off-road bits the brand offers. We expect a high-travel air suspension for tackling rugged trails and more aggressive wheels and tires for added traction. With that said, Land Rover won't go full off-road with the new Defender, as the suspension may have softer settings to make your daily commute a more pleasant experience.
Safety remains a wild card, but Land Rover promises the latest in driver assistance features, which we expect to include at least automatic emergency braking, adaptive cruise control, lane-keep assist, lane-departure warning, and blind-spot monitoring.
Pricing & Release Date
There is no official release date for the 2020 Land Rover Defender, but the automaker promises to release full details in 2019 and have it in showrooms in 2020.
Pricing and positioning within the lineup remains uncertain, but we expect the 2020 Land Rover Defender to sit between the Range Rover and Range Rover Sport, putting its starting price somewhere in the $70,000 to $75,000 range.
The 2020 Land Rover Discovery's main competition will be the Mercedes-Benz G-Class, but it will also compete in price and class with the Lexus LX and Toyota Land Cruiser.
Learn about the Land Rover lineup on sale now »
Pictured: 2020 Land Rover Defender