True luxury sedan. The Lexus ES has come a long way over the years from a warmed-up Toyota Camry to a true luxury cruiser that can stand toe-to-toe with German metal.
The 2020 Lexus ES is about as good as this sedan has ever been. This is thanks to its balanced powertrain options, sharp looks, and cavernous cabin, but it's got a steep hill to climb in a highly competitive segment.
Stunning and shapely sedan, but oh that grille. The ES is an incredible-looking sedan with a stunning front end that boasts angular headlights and swooping bumper accents. Around back, its prominent shoulders and slick details that include a full-width chrome strip and trapezoidal exhaust tips stand out in a crowd. The F Sport model further enhances this look with unique accents.
While it looks great as a whole, the Lexus spindle grille is hard to look past, especially in higher trim levels, which feature a wavy chrome insert. While the Lexus grille has seemingly gotten larger over the years, rival Acura has done a good job at fixing its grille issues with its new diamond pentagon insert in the RLX. Lexus can learn a thing or two from its fellow Japanese automaker.
Surprising power, but lacks grip in slippery conditions. The ES boasts a standard 3.5-liter V6 that delivers a potent 302 horsepower and 267 pound-feet of torque, resulting in effortless acceleration. Stab at the throttle from a dead stop, and this big sedan will spin the tires before launching forward with quick-fire shifts from its eight-speed automatic transmission.
If you're willing to give up performance for fuel economy, the ES 300h's 2.5-liter hybrid powertrain produces 215 hp and zips this luxury rig to 60 mph in 8.1 seconds – all while delivering an EPA-estimated 44 miles per gallon combined.
All-wheel-drive has become a familiar sight in the midsize luxury segment, as the Jaguar XF, BMW 5-Series, Volvo S90, and Mercedes E-Class all offer it as an option. Sadly, the ES lacks this option, leaving snowbelt buyers in the cold.
The ES also lacks a legit performance model, as the F Sport variant has no power gains. Buyers who crave a lightning-fast midsize luxury rig can look to the 429-hp Mercedes AMG E 53, 603-hp Mercedes AMG E 63 S, or 456-hp BMW M550i.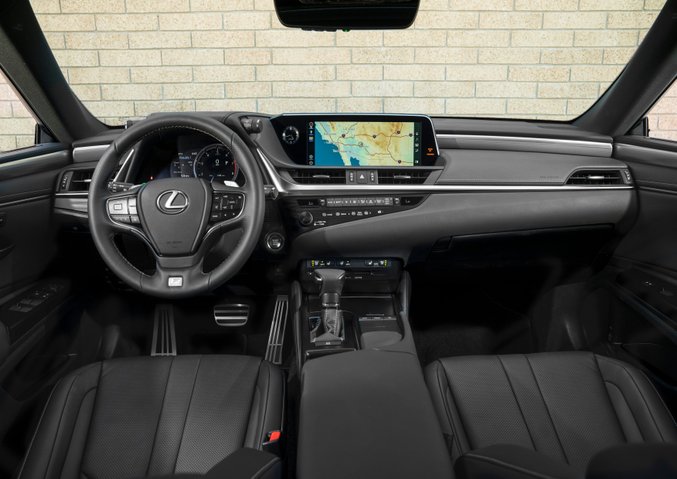 Huge, comfy interior, but awful infotainment. Inside, the ES' asymmetrical cabin looks the part of a legit luxury sedan, and its optional 12.3-inch infotainment screen it the cherry on top.
This cabin not only looks great, but it also delivers impressive comfort with well-padded seats, leather or leatherette upholstery, 39.2 inches of rear leg room, plenty of storage areas for smaller items, and a 16.7-cubic-foot trunk for larger items.
While its competitors may have equally comfy padding, few match its roominess, as the XF, 5-Series, E-Class, S90, and Audi A6 all fall short of the ES' rear leg room by at least 1.1 inches. In trunk space, the XF beats the ES by 1.1 cubic feet, but the 5-Series, A6, E-Class, and S90 all fall shy of it by at least 1.3 cubic feet.
The ES' cabin is incredible but far from perfect, as its infotainment system leaves us wishing for more. Not only does it still use the frustrating touchpad that experts have complained about for years, it lacks Android Auto and has just an 8-inch standard screen.
Buyers seeking a more robust infotainment system can get standard Apple CarPlay and Android Auto in the E-Class, A6, and S90. Plus, the E-Class and S90's standard touchscreens measure 12.3 and 9 inches, respectively.
Final thoughts. The 2020 Lexus ES is one of the most well-rounded luxury midsize sedans available thanks to its potent V6 engine, thrifty hybrid model, stunning good looks inside and out, and spacious cabin. But it's not without its shortcomings that certain buyers can't look past.
Performance enthusiasts will turn their noses up at the ES F Sport and run to the AMG-tuned E-Class or the M550i. And those who need all-wheel drive for wintertime grip can look on just about any competitor's showroom for the traction they require.
Also, shoppers who shy away from overly complex infotainment systems will find the finicky Lexus touchpad overwhelming. The simpler systems in the 5-Series or S90 are for these shoppers.