Model Preview
In 2015, the Lexus NX lineup went through a redesign, and other than its new NX 300 name, new tech, and a mild refresh in 2018, it has remained largely unchanged. We expect no notable changes to the 2020 Lexus NX.
On the outside, we expect the 2020 Lexus NX to continue with the same looks it has today. This design language debuted in 2015 and has remained a key part of Lexus' entire lineup since. Plus, it remains modern and attention-grabbing with its large spindle grille, sharp headlight, aggressive body lines, and more.
Inside, the current Lexus NX boasts a laid-out cabin that includes standard dual-zone climate control, power front seats, 8-inch touchscreen, Bluetooth connectivity, and more. Plus, there are even more premium options for those who want it, including a 10.3-inch screen, Apple CarPlay, Amazon Alexa, heated and ventilated seats, and more. We expect these features and its stylish looks to remain the same when the 2020 Lexus NX debuts.
We also expect the 2020 Lexus NX to arrive with the same powertrain options as the current model. If this is the case, the 2020 NX 300 will arrive with a turbocharged 2.0-liter four-cylinder engine that pushes 235 horsepower through a six-speed automatic transmission, and the NX 300h will produce 194 horsepower from a 2.5-liter four-cylinder engine and electric motors. The hybrid model will use a continuously variable transmission. The NX 300 will be available with front- or all-wheel drive, and the NX 300h's rear electric motor will default it to all-wheel drive.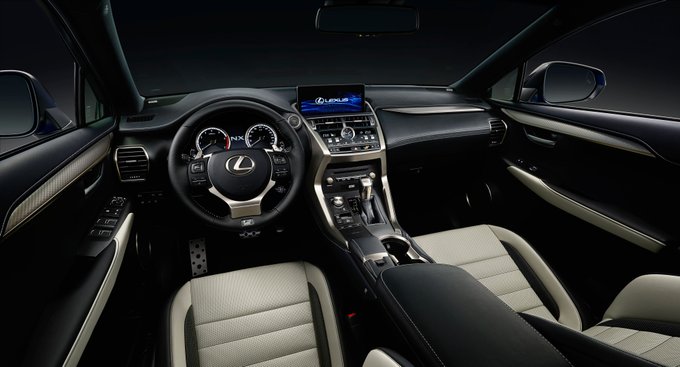 Safety is no issue for the current Lexus NX, as it has "Good" ratings in all the IIHS crash tests, a "Superior" rating in the front collision avoidance test, and "Good" rated headlights, but it falls short of being a Top Safety Pick because the IIHS hasn't tested it in the passenger-side small-overlap test. Fortunately, there is no need to choose any options to get these ratings, as they are all a part of its standard equipment, which includes automatic emergency braking with pedestrian detection. We expect this to all remain the same in the 2020 Lexus NX. The only change may be it finally getting the Top Safety Pick rating it deserves if the IIHS completes testing.
Pricing & Release Date
There is no official release date for the 2020 Lexus NX yet, but we expect it to arrive around the same time as this year, which would give it a summer 2019 release.
Pricing also remains uncertain, but we expect no big shifts in this area relative to the current NX, which ranges from $37,480 to $41,120 (destination fees included).
The 2020 Lexus NX will compete with the Acura RDX, Audi Q5, and BMW X3.
Learn about the current NX on sale now »
Pictured: 2019 NX