Brashly styled, but sensibility still reigns. The refreshed 2020 Lexus RX is anything but subtle, with its gaping spindle grille, blacked-out roof pillars, and squinty headlights. It looks like a giant piece of origami from most angles, with a multitude of sharp creases that appear to fold over themselves. While it's certainly interesting to look at, we do wonder if the Lexus designers went a little too far.
That said, the drama of the Lexus RX is only as shallow as the paint. It isn't remotely exciting to drive in any configuration, even in the "sporty" F Sport trim. Instead, the RX is designed for comfort above all else, striving to insulate you from the road with a plush suspension rather than allow you to commune with it.
Available hybrid. The RX 450h hybrid is likely the best configuration for shoppers, as its reduced fuel consumption pairs well with its calm demeanor. This powerplant allows the RX 450h to manage an EPA-estimated 31 miles per gallon city, which is quite good for an SUV of this size and a full 12 mpg better than the standard RX 350 with all-wheel drive.
To put that in perspective, the gas savings realized with an RX 450h will likely surpass the hybrid's $1,200 up-front premium over an AWD-equipped RX 350 in a little over one year of ownership (assuming 15,000 miles driven per year and an average gas price of $3.00 per gallon). In other words, if you plan on keeping your RX model for over a year, it makes the RX 450h the much better value for the money.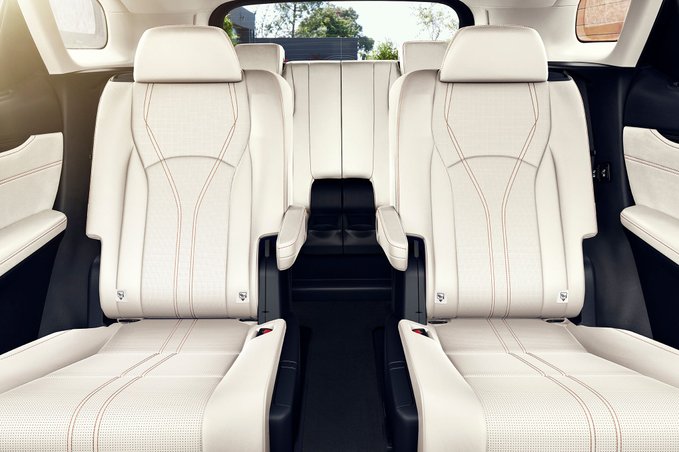 Plenty of room … for five. While the RX is available in both short- and long-wheelbase models, the third row offered in the RX L is unusable to anyone besides small children. If you need three full rows, you'll have to look elsewhere.
That said, the RX is a fantastic choice for those who only need to carry five (or four if equipped with the optional second-row captain's chairs). The front and rear seats are very comfortable with plenty of room, pairing well with the quiet interior trimmed in grey wood accents and convincingly fake leather in most models.
F Sport models eschew the standard luxury treatment for one draped in red leather and aluminum trim, bolstered sport seats, and faux engine noises. The interior trim may look sporty, but it still isn't any more fun to drive.
Mixed crash test scores. Most other vehicles on the market are consistently getting better at protecting their occupants with improving crash test scores. Concerningly, the RX isn't one of those models.
While the IIHS did name it a Top Safety Pick when equipped with LED headlights, the NHTSA only gave front-wheel-drive models four stars overall with marks taken away for frontal crash protection.
Final thoughts. Who wants to have some fun? Are you just saying you want to have fun, or do you really want to have fun? If you're just saying that you want to have fun, the 2020 Lexus RX is the perfect SUV for you. Not that there's anything wrong with that!
While the edgy design certainly feels exciting, the RX is clearly designed for a more relaxed pace. Instead of adrenaline, the RX prescribes serotonin with its comfortable and spacious interior and unobtrusive ride.
Those who do want something sportier would be better off in the Jaguar F-Pace, while those in search of a more comprehensive cutting-edge design ethos would be delighted by the Volvo XC60. Those in need of a usable third row may want to look down-market at a well-optioned Hyundai Palisade or Honda Pilot.