A bold choice in a crowded segment. The 2020 Lexus UX carries over, largely unchanged from 2019, its inaugural year on the market. However, don't interpret that to mean this Lexus is taking it easy with their baby crossover: in a segment chock-full of pseudo-sporty German trucklets, the UX has to fight off some tough competition if it's to stand out and win buyers.
In regards to standing out, the styling takes care of that no problem. It wears a polarizing look to be sure, with a front end that's anything but subtle and a mess of creases and bodylines that make this Lexus do anything but blend in. You'll either love it or hate it.
All we're going to say is that we respect an automaker's decision to march to the beat of their own drum when it comes to design. We'll also mention that we think the hourglass grille, which has been much derided the last few years, looks better on the UX than on other Lexus models.
CVT needs a final polish. Behind that distinctive front end lies the heart of the UX: a 2.0-liter four-cylinder engine that manages to drum up a not-so-luxurious 169 horsepower.
To make the most of that meager pony count, the engine mates up to a continuously variable transmission (CVT) that pairs with a fixed first gear for an improved off-the-line response. The result is what feels like a quick little gallop from a stop, but it doesn't last long: 0-60 mph still takes a full nine seconds.
Once up and running, the CVT comes into play, itself trying to hide behind 10 preset ratios that are designed to downplay the typical behavior of this transmission design. We weren't entirely fooled on our test drive, though. Behind those pre-programmed ratio changes lies a typical CVT unit that's slow to react and prone to drone.
There's also a hybrid model available. It's a touch slower than the standard model, but its real-world gas mileage is significantly better at an EPA-estimated 39 miles per gallon combined. That's also with all-wheel drive, which is mandatory on the hybrid but only optional on the standard models. We'd spring for the hybridized version were it our money.
Both engines are fairly refined pieces, but the general lack of speed and polish takes away any luxury credibility. In either guise, the UX is clearly an entry-level utility vehicle with its focus not so much on the driving experience as it is on the appointments and interior comfort.
For those who are OK with that, the UX will be satisfactory. The rest of us will be left a bit disappointed.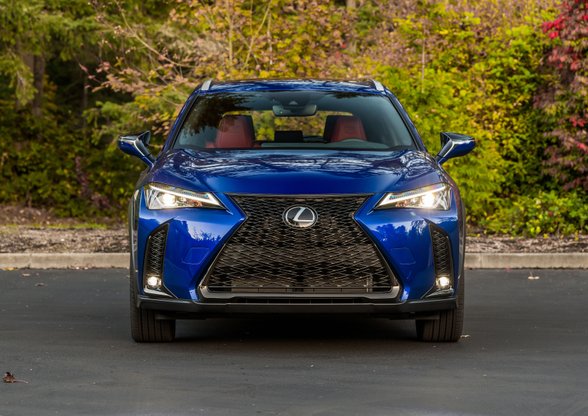 Ritzy interior, kludgy infotainment. If the UX does one thing absolutely right, it's the interior. It isn't the roomiest place to be in the world, but the materials are unique, distinctive, and even a little eco-friendly - the only leather here is synthetic. There's also plenty of standard features, including new-for-2020 Android Auto (Apple CarPlay was previously available).
Other than coding in Android compatibility, the standard infotainment system remains the same as last year: a 7-inch screen that bundles smartphone compatibility, Amazon Alexa, Bluetooth, and four USB ports.
It works, but barely. We found it a pain to try and work our way through the screens and menus using the provided touchpad and rotary knob. Getting it right means taking your eyes off the road for, in our opinion, too long a time. This system never becomes truly intuitive. We'd rather a touchscreen.
Luckily the overall goodness of the interior makes up for the frustrating technology. If you opt for the Premium Package on base models, you'll get true luxury touches like heated and ventilated seats, rain-sensing windshield wipers, and a Japanese Washi trim that is more interesting than the base decor. Other notable options include a 10.25-inch screen with navigation and a head-up display.
Stellar safety. The UX graduated from crash-test school with high honors, acing all the tests put forth by both the NHTSA and IIHS. The latter even awarded it their Top Safety Pick Plus designation thanks to good standard-equipment headlights and its across-the-board crash test performance. The only thing that held it back from a complete perfect score was car-seat anchors that were only deemed "acceptable" rather than "good."
Standard active-safety equipment includes automatic emergency braking, lane keeping assist, lane departure warning, and adaptive cruise control. This sort of equipment is beginning to sound like basic stuff at this point, but there are still some companies – we're looking at you, you German luxury automakers – that don't offer any of that as standard.
That comprehensive list leaves only blind-spot monitoring and rear-cross traffic alert as optional, though they do come standard on the top-spec Luxury trim.
Final thoughts. The 2020 Lexus UX has been tasked with championing the brand's name in the severely crowded and still-growing class of compact luxury crossovers. Buyers are flocking to these affordable runabouts with ample cargo space and luxury fittings.
And for what buyers are looking for, the UX largely delivers. Yes, there are quicker and more refined options on the market, but the Lexus sells itself on a big cargo hold (there are 21.7 inches of space behind the rear seat for non-hybrid models), quality appointments, luxury features, and distinctive styling.
We think it's enough to separate it from its competition, though we don't see the UX taking the title of, class leader, due to that cumbersome infotainment setup and those darn lethargic powertrains. But if its safety, reliability, and features that matter more than off-the-line gusto, the UX certainly won't disappoint.