In a strange twist, Mazda has just revealed an all-new crossover slotted between the subcompact CX-3 and the compact CX-5. The all-new Mazda3-based CX-30 will arrive with the latest Mazda design and a slightly larger footprint than the current CX-3.
Visually, the 2020 Mazda CX-30 will share the same relationship with the new-generation Mazda3 as the CX-3 shares with the current Mazda3. It will essentially be a lifted version of the hatchback with a few extra tweaks to its body to make it more suitable as a high-riding crossover. This will give the CX-30 all the latest in the Kodo design language, including the more angled headlights and the thinner taillights with a distinct circular area.
In terms of size, the CX-30 will be slightly larger than the CX-3 and smaller than the CX-5, cramming it into the narrow slot that separates the two. It will be 173 inches long, 70.7 inches wide, and 60.6 inches tall. This body will ride on a 104.5-inch wheelbase.
Inside, the 2020 Mazda CX-30 will come with a new look that will include horizontal air vents to visually widen the dash. There will also be a cleaner dashboard look with its climate controls moving upward and using smaller knobs, and the wider and lower infotainment screen. Beyond its new look, Mazda also promises additional interior room and a more peaceful ride with additional sound-deadening materials. Mazda claims a 15.2-cubic-foot cargo area with the rear seats upright, which will be a 2.8-cube improvement if that translates directly to U.S. measurement standards.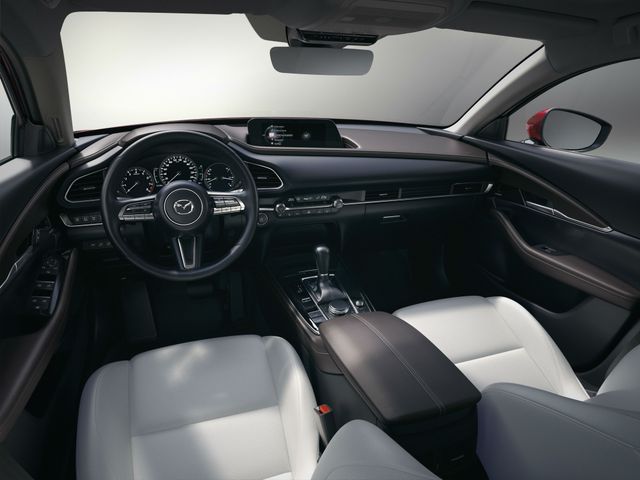 Under its hood, things remain a little blurry, but Mazda promises a global lineup that includes gasoline, diesel, and mild-hybrid options. Though the Mazda 3 it's based on uses a 186-horsepower 2.5-liter engine, Mazda makes no mention of this powerplant in any of its press material. What it does mention is the CX-30 will use a Skyactiv-G 2.0-liter engine with cylinder deactivation as its base powerplant. Optional engines will include a 1.8-liter diesel engine, which will likely not be for U.S. consumption, and the mild-hybrid Skyactiv-X engine. Front-wheel drive will be standard, but all-wheel drive will be available as an option.
The Mazda CX-3 is an IIHS Top Safety Pick, so there is no reason to expect anything less from its larger sibling, the 2020 CX-30. Mazda solidified this by announcing the 2020 CX-30 will have all the latest in safety gadgets, including available automatic emergency braking, adaptive cruise control, front cross-traffic alert, and much more.