What's in a name? Let's get this out of the way right off the bat: the 2020 Mazda CX-30 isn't the same as the Mazda CX-3. They are similar, yes. But the same, they are not.
The CX-30's sheet metal represents the latest distillation of the Mazda school of design. Compared to the CX-3, there's narrower headlights and a wider, bolder grille with less surrounding visual clutter. The side profile looks cleaned up, with some creases smoothed out and the sculpting more subtle. The general pared-down theme continues to the rear end.
It all makes for a progressive look, a clear step forward from the current design language used on the older models in the Mazda lineup. But it's the bigger dimensions that will please buyers most. Compared to the CX-3, the CX30 is nearly 5 inches longer and 1.2 inches wider. The resulting larger interior is a welcome touch, as the CX-3 is constrained by its tight dimensions.
In our hands, we found the bigger CX-30 could fit two tall adults in the back without issue, even if the front seats were set for six-footers – this isn't the case with the CX-3. Front seats were roomy, well-bolstered, and comfortable. There are 20 cubic feet of cargo space behind the rear seats; fold those down and there are 45 cubes to work with.
Fun spirited. Mazda is well known for tuning their vehicles to have some verve, and the CX-30 is no exception. In a class of anodyne transportation pods, the CX-30 is a relative diva.
Things begin with its 186-horsepower 2.5-liter four-cylinder engine. It makes do without a turbocharger and pairs to a six-speed automatic transmission. Such a familiar gearbox is somewhat of a rarity in a class that seems to favor continuously variable units – and is also somewhat of a rarity in a world now rife with eight-or-more-speed transmissions.
But no matter. The CX-30 has a willingness to rev and has a level of refinement not common in this class. The transmission happily holds gears if you ask it to, and sport mode exacerbates this, almost to an annoying extent.
Underneath, the CX-30 rocks an independent suspension up front and a torsion beam setup in back. The astute among you might note that the old Mazda Mazda3 used an independent suspension at all four corners, but the new 2020 model – and this CX-30 that's based on it – have seemingly regressed to using a torsion beam rear suspension. Why? The cost was likely the biggest reason.
You'd think this retrogressive change should be reflected in handling, but it isn't. The CX-30 handles well for what it is. In fact, it's almost fun, especially when compared to a Honda HR-V or Toyota C-HR. There's a touch of real sport here. The Mazda MX-5 Miata would be proud.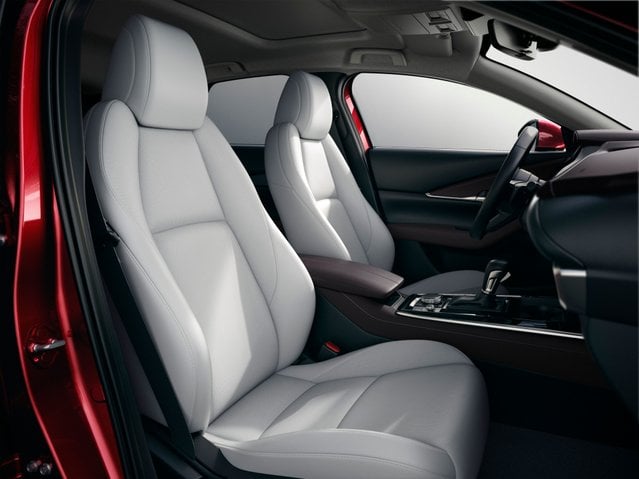 Infotainment woes. The CX-30 over-delivers on dynamics, but when it comes to comfort and convenience features (which, let's face it, is what buyers really care about), there's still some room for improvement. Particularly with the infotainment setup.
For starters, there's no Apple CarPlay or Android Auto on the base model. Maybe we're this is just us being spoiled, considering the CX-30's $22,945 base price. But look over to the competition and you'll find that the Chevy Trax, Hyundai Kona, and C-HR all offer this desirable compatibility as standard – and they also cost less than the CX-30 (more on that in a minute).
Beyond that, we also take umbrage with the 8.8-inch display screen. Rather than embrace the popular haptic design, Mazda has decided to stick with a rotary knob, the reason being that drivers should not be fiddling with screens as they drive.
It's a commendable idea that we think holds water. But the irony here is how difficult the Mazda system is to use intuitively, especially when compared to lauded touchscreen software like FCA's Uconnect and Ford's Sync 3.
At least the rest of the dapper-looking interior is decent. There's impressive fit and finish and surprisingly nice materials, though how long they'll hold up is a concern. Our test car already was showing scratches on some of the gloss-black interior trim, and it had just 500 miles on the odometer.
Questionable value. Along with the needs-improvement infotainment system, the value play of the CX-30 is questionable at best. As we mentioned, the base price of this crossover sits at $22,945.
For that money, you get 16-inch wheels, keyless ignition, cloth upholstery, and some active safety features such as adaptive cruise control and automatic emergency braking.
We'll admit it's a decent list, but the competition has done one better. Other models either offer equivalent standard features but start at a cheaper price, such as the $21,580 Ford EcoSport. Others are similarly priced but offer more features, like the $22,415 C-HR. It includes 17-inch wheels, smartphone compatibility, and dual-zone climate control as standard.
Higher trims continue the trend. At the top of the CX-30 lineup is the Premium trim, which is just shy of $30,000 without any options. It includes luxury touches like a panoramic roof, power liftgate, a head-up display, and adaptive headlights. But it also costs about $3,000 more than the top-trim models of comparable cars.
At that price point, you have to seriously consider what else you can get for your money before you splurge on the CX-30. For instance, that $30,000 can buy you a mid-grade Toyota RAV4 or Honda CR-V.
You could also get a base Ford Edge or Honda Passport for just another $1,000 to $2,000 more. Though all these bigger models will sacrifice fuel economy and not be as feature-laden, their additional size, higher-quality materials, and more refined powertrains are enticing reasons to buy.
Final thoughts. The 2020 Mazda CX-30 is a deft dancing partner in a segment that typically has two left feet. But is its higher price of entry worth some dynamic thrills?
While some of us auto writers might answer in the affirmative, most shoppers would rather save a few dollars. And in this category of vehicle, we can't fault them a bit. This is an A-to-B mover that's replacing the econo-hatch as the cheap and practical transportation option.
Were it a bit cheaper or had a better infotainment setup, we'd be tempted to recommend it over some of its adversaries. But good looks and entertaining driving dynamics can't overcome the fact that, in a value-laden class, the Mazda simply falls short on value.
The CX-30 ultimately ends up being a great choice for those who care about driving, but probably not the best option for anyone else.