Gorgeous styling. Lovely from any angle, the design of the 2020 Mazda CX-9 eclipses every other vehicle in its class – from both mainstream and luxury brands. With few straight lines, the biggest Mazda features sheet metal stamped into nuanced curves, creating the illusion of a smaller vehicle.
The look begins up front, with a stunningly sculpted version of the brand's signature shield grille consisting of five pairs of horizontal chrome bars. It's framed by a protruding extension of the hood line on top, and a large chrome piece that extends from one headlamp housing midpoint to the other that dips down to form the lower edge of the grille. The grille is also flanked by narrow headlamp housings that neatly integrate into the overall theme.
Along the sides, there's nary a straight line to be found, with crisp, sculpted lines and either 18- or 20-inch wheels filling the gently arched wheel housings. The sensuous look continues in back, with a wide chrome trim strip bridging the taillights, while a matching chrome strip trims the bottom edge of the lower valance.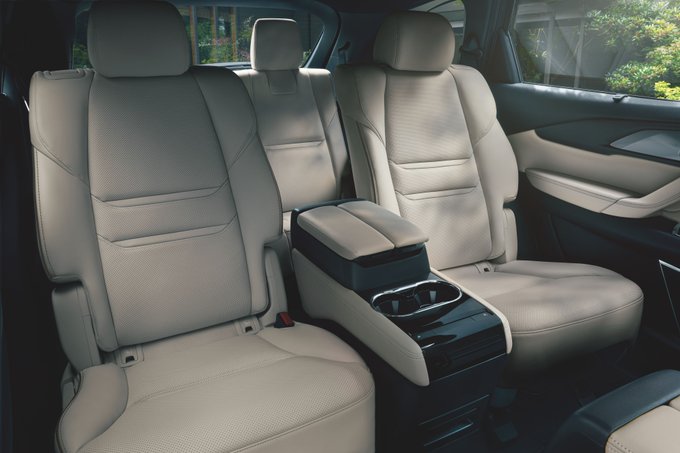 Stunning interior. The CX-9's interior is equally sublime. Even the modestly-priced Sport model offers class-above materials, finely-grained plastic trim, soft-touch surfaces, and silky-smooth switchgear. At the same time, the top-line Signature trim, with Nappa leather seating and brushed aluminum and Santos Rosewood trim, rivals those from European luxury brands.
Versatility is enhanced by folding the third row, a configuration we suggest as a permanent solution. Doing so reveals 38 cubic feet of storage space, while 71 cubic feet of storage space is available with the second row down.
The Touring trim is our best buy pick, as it adds a 9-inch touchscreen, Apple CarPlay, Android Auto, leather-trimmed front and middle row seats, heated front seats, a power passenger seat, a power liftgate, a power second row, and a second-row armrest with two USB ports, storage, and cup holders.
At the same time, while nicely bolstered and, in our experience, still offering all-day comfort, the seats could use more padding. They're somewhat firm for American tastes, while the cabin's delights end at the second row.
With just 30 inches of leg room, 40 inches of hip room, and 35 inches of head room, third-row occupants should be limited to small children. In addition, the CX-9's descending roofline and raked back glass limits vertical space behind the back row, where just 14 cubic feet of cargo room is available.
Advanced safety. The NHTSA gives the CX-9 a five-star overall safety rating, their highest mark possible. It also receives a Top Safety Pick Plus award from the IIHS, courtesy of standard adaptive LED headlights, LED taillights, LED fog lights, and automatic high beams.
Additional advanced safety features across the board include forward collision warning, automatic emergency braking, adaptive cruise control, lane keeping assist, lane departure warning, and blind-spot monitoring.
Annoying infotainment. All but the Touring model now feature Apple CarPlay, Android Auto, and a new 9-inch color touchscreen for 2020. Huzzah! These are all compelling reasons to avoid the Sport trim, but all models still feature a distracting knob-and-button console interface.
Why Mazda – a company devoted to the principle of a driver-centric cabin – continues to use menu-intensive infotainment software remains a mystery. Case in point: rather than simply holding down a station button, pre-setting requires adding a station to a "favorite list." This requires tuning to the station you want to "favorite," which is then added to the bottom of the list.
We tried moving favorites up and down the list to change the order but were never successful, or patient enough to see this through. Deciding between the convoluted OEM navigation system and Apple Maps is also a no brainer. Enough said.
Final thoughts. Slick but hardly perfect, the 2020 Mazda CX-9 disappoints with its mediocre cargo space, barely functional third row, and overly complex infotainment system. Still, a wide range of safety features, ravishing interior, and stunning design clearly place Mazda's biggest crossover above the near-luxury large crossover class.
Checking the competition, families with older children should note that both the Chevrolet Traverse (33.5 inches, 48.5 inches, and 38 inches), and Honda Pilot (32 inches, 45 inches, and 39 inches) offer more leg, hip, and headroom, respectively.