Recently, Mazda began teasing a potential electric vehicle. At the Tokyo Motor Show, we finally got our first-ever glimpse at the brand-new MX-30 electric crossover.
A quick glance at the body, and you may think, "yep, it's an electric CX-30." Well, you're close, but not entirely accurate. While it boasts many cues tied to the gasoline-only subcompact crossover, the MX-30 features a more coupe-like rear glass and a very un-Mazda-like nose that slaps a more aero-friendly slit-style grille in place of the brand's signature big-mouth piece. The other signature this EV crossover boasts are the Honda Element-like suicide doors that Mazda has playfully rebranded "freestyle" doors.
Inside, Mazda did some creative designing to give this tiny crossover a more spacious feel, including a dash with more horizontal lines, a "floating" center console and gear shifter, and very few buttons or knobs cluttering things up. The latter is made possible by a 7-inch touchscreen climate-control system that may or may not end up being a point of frustration for owners. Joining this climate control system is a 7-inch dash-top infotainment screen.
Under its skin, the new Mazda MX-30 will initially arrive with only electric power. Mazda kept the powertrain details relatively vague at the auto show, but earlier reports claimed this EV would boast a 35.5-kilowatt-hour battery feeding an electric motor with 143 horsepower and 195 pound-feet of torque. There are also reports of a range-extender option that will add a gasoline generator to North America-bound MX-30 models. And now the fun part… reports indicate this range-extending generator could use a rotary engine.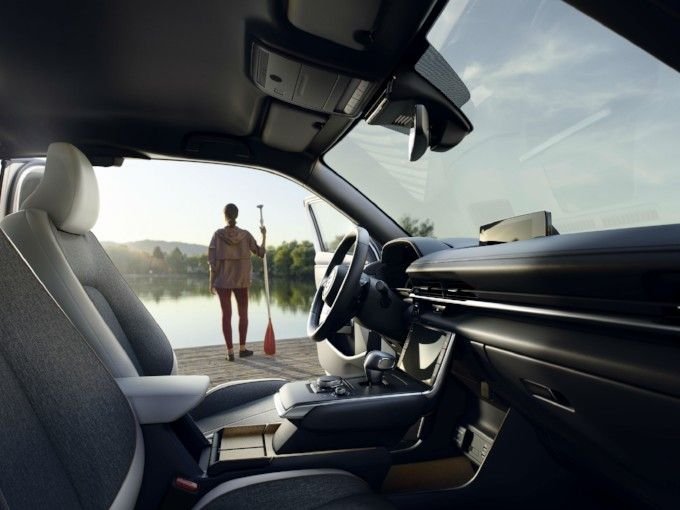 Mazda has turned much of its focus to safety in recent years, and the MX-30 will push this agenda further. In addition to all the great safety features Mazda offers today, including automatic emergency braking, blind-spot monitoring, pedestrian braking and more, the 2020 MX-30 will add Turn-Across Traffic, which will stop you from turning left across an intersection if there is traffic coming.
We have some time to wait before the Mazda MX-30 goes through any safety testing in the U.S. – if it ever does – but a point of reference can be the IIHS Top Safety Pick CX-3. Assuming the MX-30 will ride on related architecture, we would expect similar ratings.