Since its debut in 2014, the Mercedes-Benz CLA-Class hasn't seen many changes. This trend stops soon, as Mercedes has just revealed the fully redesigned 2020 CLA-Class.
Visually, the CLA-Class will retain the four-door coupe look it brought to the luxury compact-car class, but it will boast an all new take on it. Gone are any overly sharp lines or dramatic changes of direction and in come swooping lines that seem to flow effortlessly from one end to the other. These lines are highlighted by its long, low-slung hood, rearward-positioned cockpit, and windswept headlights. This is all trickle-down styling from the CLA-Class' big brother, the CLS-Class.
The CLA-Class' looks aren't all that will change — it will also change in size. The 2020 Mercedes CLA-Class will be 1.9 inches longer, 2 inches wider, and 0.08 inches shorter in height. It will ride on a 1.1-inch longer wheelbase with a 2.5-inch wider front track and a 2.2-inch wider rear track for added stability in the corners.
Inside, the 2020 Mercedes-Benz CLA-Class will take a big step toward its target clientele with a youthful and high-tech approach. From its flat-bottom steering wheel and smooth, one-piece dash to its "floating" infotainment screen and turbine-style heating and cooling vents, the 2020 CLA-Class' interior will be sharp and tunedspecifically for the younger crowd — or the young at heart.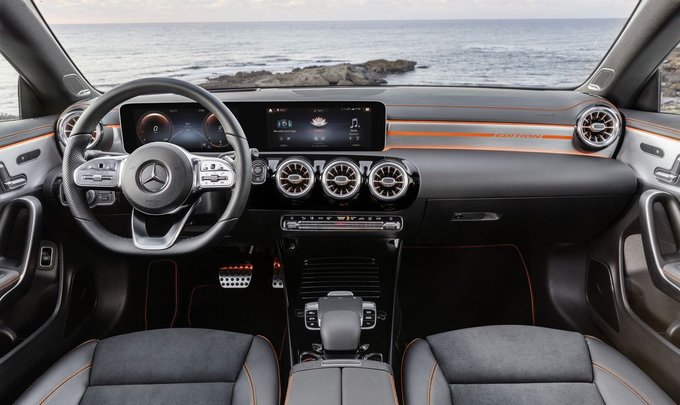 Inside, the 2020 CLA-Class will treat occupants to the latest Mercedes-Benz User Experience system. This system activates to the command "Hey, Mercedes" and can respond to complex queries without becoming confused by background chatter from passengers. The MBUX Interior Assistant makes life easier for the driver and passenger by working in a non-contact mode in all levels of light. This means you can use hand gestures to control the system, such as the "personal favorites" gesture, which is a horizontally outstretched index and middle finger.
The under-hood bits of the 2020 CLA-Class remain uncertain for now, but Mercedes showed off the CLA250 with a four-cylinder engine and seven-speed dual-clutch transmission during its debut. There are no output numbers, but we should learn more about that soon.
The IIHS has yet to put the current CLA-Class through its full testing, so there is no indication of how the 2020 CLA-Class may perform. What we know is it will boast all the active safety technology the IIHS likes to see. This will include several levels of automatic emergency braking, including one standard AEB system, lane-keep assist, adaptive cruise control, lane-change assist, and more.