Luxury in 7/8 scale. For not a lot of money, you can buy an unpretentious mainstream crossover that can do everything you ask of it, all with a level of refinement unheard of even just 15 years ago.
Yet, for just a little more money, you can buy a luxury crossover that's equally practical but much more prestigious. If that's more your speed, the 2020 Mercedes-Benz GLA-Class is your kind of chariot.
As the entry-level Benz crossover, the GLA 250 won't impose or impress like a hulking Mercedes S-Class or Mercedes G-Class. This generation of the GLA is also in its final year, so its design is starting to show its age. But there's plenty of competence here, if you can look past the relatively downscale interior and the present lack of any AMG iterations.
Tepid performance. The GLA-Class is the final year for a design that first appeared in 2015. With retirement in sight, the AMG model was snuffed out early. This means that the only engine option is the base 2.0-liter turbocharged four-cylinder that's mated to a seven-speed dual-clutch automatic transmission.
Take a look around the segment and you'll find most models in this class are powered by some variation of this basic powertrain. Mercedes has wrung out 208 horsepower and 258 pound-feet of torque from theirs.
These numbers are a bit on the low side – Audi and BMW both get 228 hp out of their 2.0-liter turbo-fours. However, it's more than the 187-hp Volvo XC40 that also vies for buyers in this class.
In any case, the Mercedes' 208 hp allows for a rather unimpressive 7.1-second 0-60 mph sprint when equipped with all-wheel drive. It's not quite as fast as the Volvo, BMW, or Audi, all of which sneak in under the seven-second threshold.
Despite being the laggard for 2020, there's a chance the GLA will brandish the performance title again once the new 2021 model hits the streets with a new AMG variant. Expect that model to be much more of a barnstormer than this tepid GLA 250.
Middling interior. The Mercedes name connotes a certain lavishness, but reality falls a little short of expectations with the entry-level GLA 250. Something had to give to keep the price attractive, and so the interior was shorn of some of the typical Mercedes touches. It's not outrageously cheapened or blatantly downmarket. It just doesn't have the flash and glitter one might expect.
What it does have is nice enough. The comfortable seats are 14-way power-adjustable and they fit snug thanks to bolstering that's a little on the aggressive side. The standard dual-zone climate control and 8-inch touchscreen keep things appropriately luxurious. You'll also get power tailgate, Bluetooth, and keyless ignition for no charge.
What you don't get? Standard Apple CarPlay or Android Auto. Mercedes charges you $350 for that convenience, despite it becoming more and more commonplace with every passing year.
Options such as heated seats and leather upholstery will give this Benz more prestigious airs, but it's hard to ignore some of the black plastics and hard-touch surfaces scattered throughout the interior. Even fully loaded, you can't get around the fact that this is budget-luxury.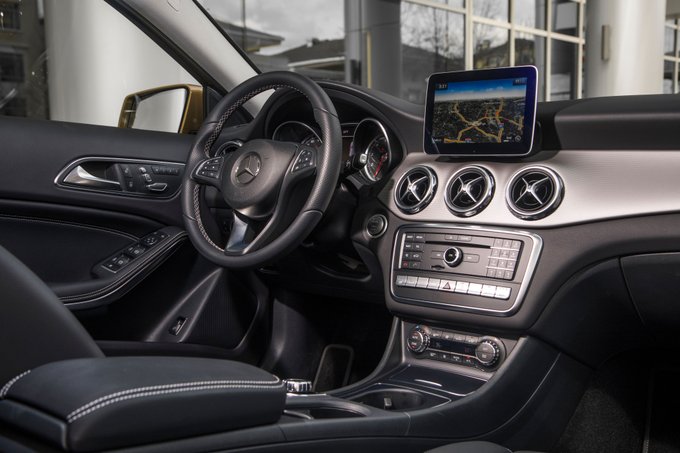 The question of value. The GLA-Class starts within a few hundred dollars of both the BMW X1 and the Audi Q3. Other competitors like the Lincoln Corsair and XC40 are within $1,000 of it. Clearly, then, the GLA 250 is priced right. But does that mean it's a good value?
We're thinking otherwise. Now that the AMG trim is gone, you can get better performance with the optional engines from Volvo and Lincoln. If you want all the latest tech, that's best served by Audi. BMW brings the driving dynamics. And the most stylish, as subjective as that is, could easily go to the Lincoln. This leaves the Mercedes outclassed in the categories most important to shoppers.
The passing of time is partially the problem. The GLA, remember, is a five-year-old vehicle trying to compete with designs that have been on the market for just a year or two. At the hectic pace of progress, this is nearly a lifetime. It means what was a good car in 2015 has dropped to being just a meh car for 2020.
2021 will see an all-new GLA debut. This second-generation model should bring significant gains in interior quality, powertrain performance, and standard technology. Whether this closes the gap between the Mercedes and its competitors remains to be seen, but, if nothing else, it'll be a more compelling product.
Final thoughts. Aging is a bummer, just as much for cars as it is for people. As different models come and go, the most praiseworthy of these – if left alone long enough – become less so. Then new models from unexpected competitors, like Lincoln and Volvo, arrive to further reorder the rankings. And in turn what was once competitive is no longer so.
Such is the case with the 2020 Mercedes GLA 250, a crossover that used to be strong contender in this class but now finds itself outdone by a variety of rivals. The passing of the AMG model, the decent-but-not-class-leading interior, and styling that's beginning to show its age all render the GLA a has-been.
Luckily, a new model is on the way and should be here within the year. Our advice? Wait for that one to drop before shelling out for this outgoing model. After all, new and improved is always better than old and inferior.