The Mercedes GLC-Class only just debuted back in 2016, but it will already get a redesign when the 2020 GLC-Class arrives in showrooms. Granted, it will be about as about as mild a redesign can be, but Mercedes calls it a redesign nonetheless.
On the outside, the 2020 Mercedes-Benz GLC-Class will boast the same basic silhouette as the current model, but there will be plenty of other design updates to take in. Up front, Mercedes will add a new two-bar grille with a more rounded outline and a diamond lattice.
The front end will also gain redesigned LED headlights, torch-design fog lights, and an all-new bumper. Around back, all-new taillights with new squared-off lighting inserts widen it visually while a thinner rear bumper with a new lower insert and exhaust outlets finish off the restyle.
Inside, the redesign will require an even more powerful microscope to find all the updates. The most obvious of the updates will be the two new steering wheel options with more distinct post designs and flat bottoms. Buyers will also find two new Natural Grain Grey Oak and Natural Grain Walnut trim options for the center console and the new Mercedes-Benz User Experience multimedia system. The latter will allow human interaction with the infotainment system via more common voice commands, gestures, the Touch Control Buttons on the steering wheel, the central touchpad, and the touchscreen.
Under its hood, the GLC300 model will get a small bump in power to 255 horsepower and 273 pound-feet of torque — a 14 hp bump. This power will route through a carryover nine-speed automatic transmission and out to the rear wheels as standard or all four wheels with optional 4MATIC. On top of being more powerful, this new M264 engine will be easier on fuel than the M274 unit it will replace, but Mercedes has not announced its official fuel economy numbers.
The current GLC-Class is an IIHS Top Safety Pick+, and the 2020 GLC-Class will arrive with all the same safety features but with a few tweaks to some of the systems. The optional Driver Assistance Package will continue to offer adaptive cruise control, but it will gain the ability to brake for stationary vehicles and will have an expanded automatic restarting feature in traffic jams. This system will also gain Route-Based Speed Adaptation that reduces the cruise control speed based on the surroundings, like when approaching a sharp corner or a toll booth.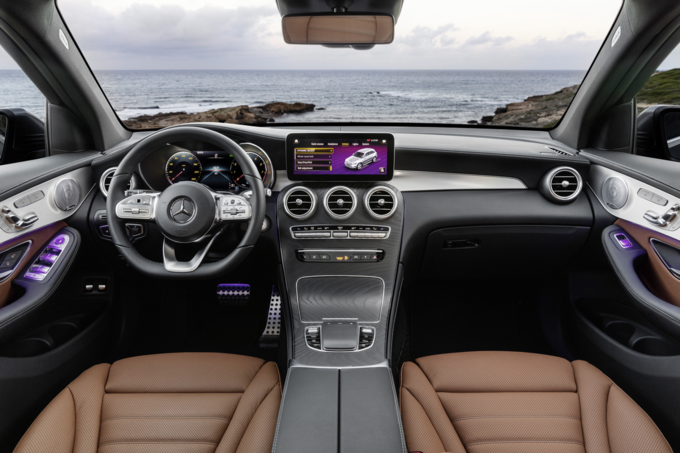 Active Steering Assist will also remain in the Driver Assistance Package, but this system will stop the vehicle, unlock the doors, and contact emergency services if the driver is unresponsive after the system activates. Active Steering Assist will gain active lane changing and active speed limit assistance. Barring a large structural setback in the redesign, we expect a repeat Top Safety Pick+ performance.