The near-perfect luxury crossover. The 2020 Mercedes-Benz GLC-Class received a light refresh, improving upon what was already one of the best crossovers in the compact luxury class. Add to that a sporty coupe model and all the muscle you could ever want from AMG, and this might be the perfect rig.
But there are a few caveats that come with this near perfection. The coupe variant lacks headroom and is hard to get in and out of, and its pricier than many of its rivals.
All body styles stun. Roll up to any Mercedes GLC-Class and tell us it's not gorgeous – seriously, from any angle. You can't because there isn't a bad angle on this sharp luxury crossover. Even in the typically funky-looking coupe, it shines.
Inside, the GLC is just as stunning with its flowing lines and plenty of sportiness. Some buyers may find its cabin a bit too overbaked. For those poor souls, we direct them toward the more straightforward Volvo XC60.
This cabin is also bursting at the seams with standard features. This compulsory equipment includes leatherette upholstery, a 10.3-inch touchscreen, heated front seats, and Android Auto and Apple CarPlay.
If you fancy a BMW X3, you'd better plan to pay or skip Apple CarPlay, as it calls for an $80-per-year fee after the first year. As for Android Auto, the X3 doesn't even offer it on its teeny-tiny 6.5-inch standard infotainment display.
Realistic room for five. Many crossovers say they fit five passengers thanks to tiny center seats, but few can do so with relative comfort. The GLC-Class' wide rear bench can fit three adults in the rear, and its 37.3 inches of rear legroom gives taller riders room to stretch out. The X3 and Land Rover Range Rover Evoque come up short in rear legroom by 0.9 inches and 3.5 inches, respectively.
Keep in mind, though, the GLC Coupe's raked rear glass gobbles up a lot much headroom, making it tight for most adults. This raked backside and results in much smaller rear door openings.
The GLC is middle of the pack in terms of cargo space. The standard model offers 19.4 cubic feet behind the rear seat, which bests the XC60's 17.8. However, it trails the Evoque (21.5 cubic feet), X3 (28.7), and Lincoln Corsair (34).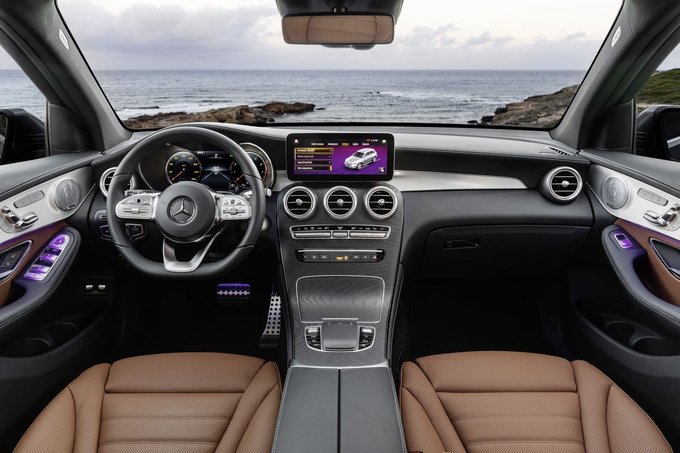 Ride softly but carry a big stick. The big update to the GLC-Class, other than its light visual refresh, is a 14-horsepower increase under the hood. While the now-255-hp base engine may not be earth-shattering, its pleasing ride will impress anyone, especially with the optional air suspension and adaptive dampers.
While it may ride softly, the GLC-Class carries several big sticks in its AMG models. The AMG GLC 43 kicks things off with a relatively modest 385-hp 3.0-liter twin-turbocharged V6.
The real fun starts in the AMG GLC 63 with its 4.0-liter twin-turbo V8 that punishes asphalt with 469 hp. Move into the AMG GLC 63 S with 503 hp and 516 pound-feet of torque, and you're one throttle stab away from being a DIY chiropractor – or needing one.
Few competitors come close to the AMG GLC 63 models. Only the 505-hp Alfa Romeo Stelvio Quadrifoglio nips at its heels.
Final thoughts. The 2020 Mercedes GLC-Class is a something-for-everybody luxury crossover with its cloud-soft ride, wild performance models, sharp looks, roomy cabin, and impressive features. And for those who want more, the options are virtually endless and dress this compact rig up nicely.
That doesn't mean the GLC-Class is the only crossover luxury shoppers should consider. Some buyers couldn't care less about performance and measure their worth in fuel economy. For those buyers, there's the thrifty Audi Q5 plug-in hybrid and the XC60 T8 plug-in hybrid.
The GLC-Class also doesn't give up all its luxury on a budget, as it starts from $43,495. The X3 starts from $42,945, the XC60 at $41,790, and the Corsair at $36,940.