Latest Updates
Updated June 10, 2019: We've added official pricing for the new GLS.
Model Preview
Since debuting as the rebadged and refreshed GLS-Class in 2017, this flagship SUV hasn't seen many changes. That's no longer the case, as the 2020 Mercedes-Benz GLS-Class has officially broken cover, showing off an all-new look and even more upscale features.
On the outside, the changes that will make up the redesigned 2020 GLS-Class will start with a longer and wider body that will sit atop a 2.4-inch-longer wheelbase. The 2020 GLS-Class' new look will not be a stark contrast to its predecessor, but it will feature obvious stylistic differences, including an all-new grille with more circular outline, new bumper, wider headlights, and new mirrors. Around back will be wider taillights with striking LED graphics to match the new headlights, a rounder liftgate and rear glass, and new bumper-integrated dual-exhaust outlets. This will not only create a new look, but it will also reduce aerodynamic drag for a more efficient drive.
Inside, Mercedes-Benz will push the bounds of modern styling with its sharp center console that will include a pair of raised grab bars. The dash will feature a more horizontal layout, additional horizontal air vents, and a pair of screens to make it look and feel wider. Speaking of the screens, they will include a 12.3-inch digital instrument cluster and a 12.3-inch infotainment screen, which will be standard.
The longer wheelbase and larger body will make the three-row GLS-Class even roomier than before, The second row will gain 3.4 inches of legroom in its rearmost position, and the third row will not only handle 6-footers like a champ, but it will also boast two full-size seats instead of tiny jump seats. All three rows will remain comfortable too with its five-zone climate control system.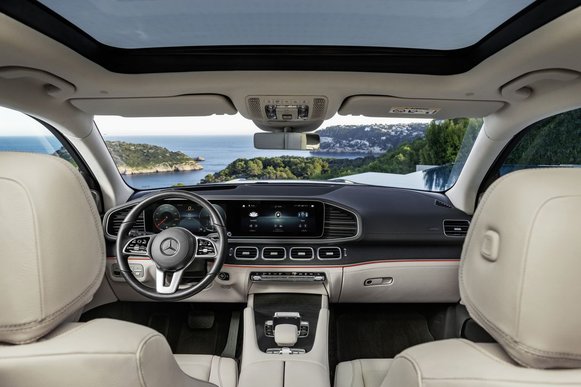 The 2020 GLS-Class lineup will start with the GLS450 4MATIC, which will boast a standard turbocharged six-cylinder engine with 362 horsepower and 369 pound-feet of torque. This engine will include a 48-volt hybrid system that will deliver an extra 184 lb-ft and 21 hp on demand for short spurts. New for 2020 will be the GLS580 4MATIC, which will boast a turbocharged V8 engine that will deliver up for 483 hp and 516 lb-ft of torque. This engine will also pair with a 48-volt hybrid system for an extra 184 lb-ft and 21 hp in short bursts. These engines will pair with a nine-speed automatic transmission.
The IIHS has never tested the GLS-Class, nor do we expect it to. Mercedes announced the 2020 GLS-Class will have available adaptive cruise control with full stop and go function. There is no mention of automatic emergency braking or any other advanced driving tech, but we expect a full allotment of these on the options list.
Expect a full review closer to launch.