The Nissan Frontier has been the king of standing pat, as it went through its last redesign way back in 2005. In the past 15 years, we've seen a few mechanical and lineup changes, but the bulk of its design has remained. A new generation is in order but not before one more year of the same design. Despite its looks remaining, the 2020 Frontier will get a big powertrain update and a smattering of other mild updates.
On the outside, the 2020 Nissan Frontier will continue with the same stale looks it's had for more than a decade. While it's dated, Nissan is fortunate that the Frontier does not compete in a class chock-full with style. So, this look won't be much of a detriment for the 2020 Frontier.
The same goes inside where, other than its touchscreen infotainment system, the Frontier is like hopping into a time machine and heading back to 2005. It's got all the funky Nissan cues from that era, including the massive T-shaped steering wheel spokes, the ridges on the bottom of the dash, and the extra-long T-shaped shifter. Also, don't let that pretty 7-inch touchscreen fool you – there's no Android Auto or Apple CarPlay, nor do we expect it in 2020.
There are a few changes to the 2020 Frontier's standard features, as they now include a leather-wrapped shift knob, a tilt steering column, power door locks, and power windows.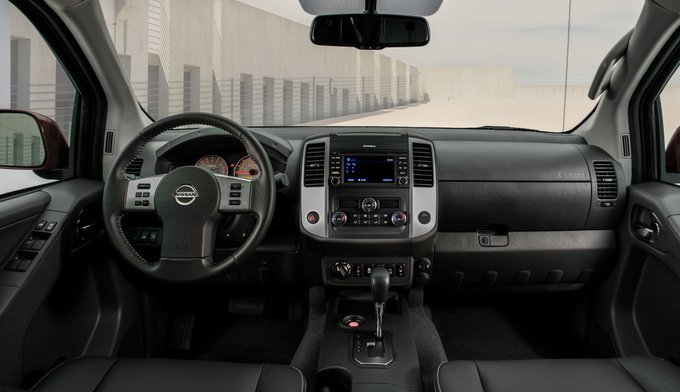 Under the skin is where the 2020 Nissan Frontier shows off huge improvement. In an odd twist, Nissan has dropped the ancient and underpowered four- and six-cylinder engines from last year and replaced them with the next-gen Frontier powertrain. This new 3.8-liter V6 engine boasts 93% all-new or redesigned parts and pumps out 310 horsepower – a 49-hp boost over the old V6.
Replacing the old five-speed automatic transmission from last year is a nine-speed automatic unit shared with the larger Titan. The new V6 engine and transmission deliver an all-new driving experience that includes improved acceleration, better fuel economy, and reduced powertrain noise.
Nissan announced no changes to the 2020 Frontier's safety equipment. This spells problems for this carryover pickup, as the current model lacks all modern safety tech other than a rearview camera. In IIHS testing, it received "Marginal" ratings in both small-overlap tests and "Good" ratings in the moderate overlap, side, and roof-strength tests. Overall, the Frontier missed being a TopSafety Pick by a wide margin. With no structural or safety updates coming, we expect these ratings to remain the same.